Saturday, September 26, 2009
It's been awhile since I've been around here! I spend most of my time on Facebook now, so I don't update this obviously!

*But all is well....dad had cataract surgery on both eyes in July and August, and is doing wonderfully.

*I turned the big 5-0 in July.

*Dad and I make frequent jaunts up to Table Mountain Casino for some relaxation...if you can call losing your butt relaxing....LOL!

*We got our 'pink slips' at work in August...it was region wide... our Business Office is downsizing from 15 to 7 in December. I have already passed all of the required tests...so now it's just waiting for the new job positions to be posted. I am #2 in seniority, so I will have a job, and it will be an upgrade in pay, going from a Grade 4 to a Grade 6 or 7.

*I bought a Nikon D90 in June....I LOVE IT!!! Sold my D80 and my Canon Powershot G10... I detested that camera...but I got what I paid for it, so I can't complain.

*Hard to believe that mom has been gone almost 9 months. We miss her terribly, but we know she is in a much better place.

That's about it from my end of the world. I'll try to update more often, but I'm honestly on Facebook more, so look me up there!
Said by Kim at 7:17 PM
(PL)|| ||

~*~*~*~*~*~*~*~*~*~
Wow...has it been this long since my last post? I guess I spend most of my time on MySpace and now on Crackbook...er, Facebook...LOL. I forget about this blog!

Still alive and doing great! Going to see .38 Special/REO Speedwagon/Styx on the 17th...can't wait for that one! I actually went out a couple of Saturdays ago, to Kathy's brother Tim's birthday party on a Saturday evening. Had too much fun watching drunk people walk right into the patio screen door, and the sliding glass door. That was hysterical! And saw an old dude taking a walk in the neighborhood park near Tim's house, who had to be wearing his wife's short shorts...and the whitest legs I think I've ever seen...OMG! I had my camera with me, but I was too stupified to even compose myself to take a shot...LOL!

Dad has been getting re-acquainted with one of his best friends from high school...he also lost his wife about 2 or 3 weeks after mom died. His wife was diagnosed with a brain tumor and was gone 8 days later. But dad has driven down to his house in Visalia twice, and they are rekindling their old friendship which is good.

Sorry it's been so long....but feel free to come visit me on MySpace or Facebook!
Said by Kim at 5:45 AM
(PL)|| ||

~*~*~*~*~*~*~*~*~*~
Thursday, February 12, 2009
So....it's now been one month since mom passed... and life really does go on. We've been getting things cleaned up around the house....SO MUCH JUNK! It's unreal how much junk we accumulate! We have a 'formal' living room right inside the front entry, and it was just a junk room. So dad called and had a couch (that's probably as old as I am), 2 old TV's, 2 old rocker recliners, a coffee table, and some scrap material from mom's sewing stash hauled away....dad wants to make this room his art studio. He did oil paintings when I was growing up, then stopped for about 20 years. Once mom went into dementia, he took his hobby back up again about 2.5 years ago, and would escape out into the garage and paint. Now, he can bring it into the house and be warm in winter, and cool in summer.

Today, the carpet is being ripped up, and new vinyl flooring will be installed. This carpet is the orignal carpet we picked out when we bought our house in 1974....ORANGE SHAG! We replaced the rest of the carpet in the house in 1989, but left this room untouched....here's what it looks like before it comes up today...I should have taken a picture of all of the junk, but I labeled the first picture so you could see just what was in there: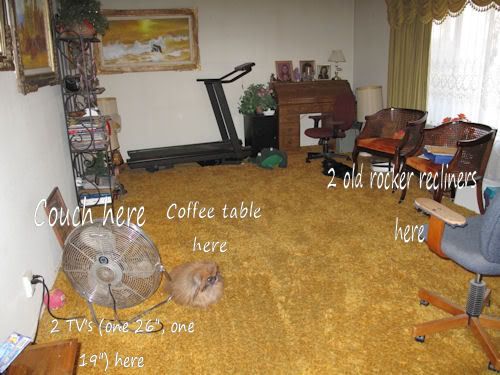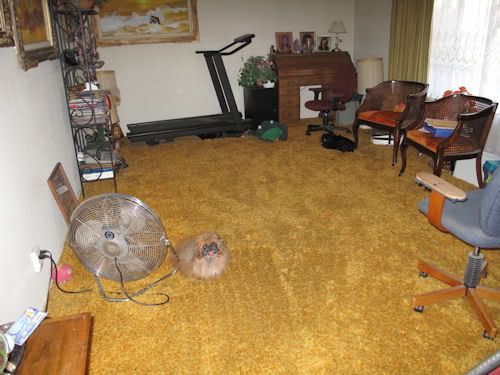 I can't wait to see what it looks like when I come home from work tonight!

*****EDIT*****

So here's what the new floor looks like! They will finish with the base boards tomorrow, then Saturday dad and I will arrange everything back, and get him situated with his art studio. The paintings on the wall that you see in the top photos are paintings that dad has done...he also carves his own frames...VERY talented!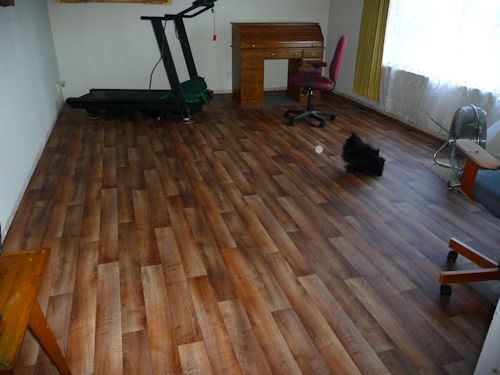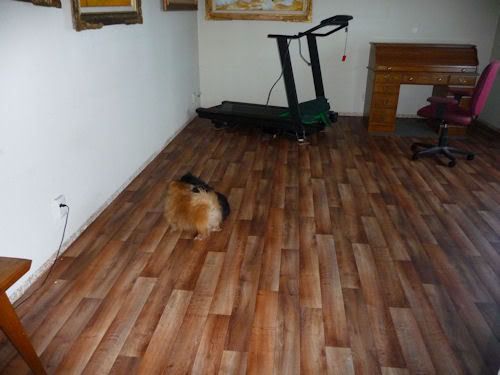 Sure looks different!

And I'm still LOVING my new car! I haven't enjoyed driving a car as much as I do this one....I look at it every day and say "I love my car!"

Hope all is well with everyone!
Said by Kim at 4:35 AM
(PL)|| ||

~*~*~*~*~*~*~*~*~*~
Man, I didn't realize just how exhausted I was....now that I can sit down for a few minutes, it hits me just how exhausting being a caregiver is. It's so strange not having to run around the house now. I find myself looking for things to do. Dad is adjusting very well.... I went back to work this past Tuesday.... I probably should have taken this week off as well, but I was ready to get back into the real world.

Thank you again to everyone for your support and caring during the past few years. I couldn't have kept my sanity without all of you!
Said by Kim at 7:17 PM
(PL)|| ||

~*~*~*~*~*~*~*~*~*~
Wednesday, January 14, 2009
Well, my friends....mom's journey down the Alzheimers road is finally ended. She passed away Tuesday morning. I wish I could shake the image of finding her gone in the bed, though. It's strange...when I found her, I didn't really cry... of course, I had to go tell dad, and he immemdiately called 911. But I think I felt a sense of relief that she is no longer trapped in a mind of the past. Today was not reality for her... she was living about 25 years in the past. That was most frustrating for me.

But she is now free, and I hope she's smiling down on me. It sounds crazy, but I looked to the sky yesterday and asked her to give me a sign that she was ok. About an hour later, Momma cat from next door was sitting on the fence outside my computer room. Momma cat always seemed to come around and sit in front of the dining room window whenever mom was at her worst....I would go outside on the front porch and sit with Momma cat, and she would make me feel better. It's probably crazy to think that this was mom's sign....but whenever I needed some joy, there was Momma cat.

So now....it's time to start living again. Dad is doing amazingly well...he's happy that he was able to keep her at home, as she wished so many years ago. She didn't want to go into a nursing home, after seeing what her own mother went through in one. So dad is at peace.

I feel an emptiness now....I feel that I'm supposed to be doing something for her, but I don't need to anymore. I'm sure this will pass with time, and I can actually start learning some of my photo software now.

I thank all of you who have ridden this ride with me...it's been great comfort knowing that I could rant, and no one would judge me for it. I'm so happy that mom is now dancing up there in heaven...and that she is with her family again.

Rest in peace, Mom. I love you so much...I'm still your baby girl always!
Said by Kim at 7:34 PM
(PL)|| ||

~*~*~*~*~*~*~*~*~*~
HAPPY NEW YEAR, everyone! I hope it was a wonderful holiday season for you!

How did I ring in the new year? By saying goodbye to my 1998 Pontiac Grand Prix GTP: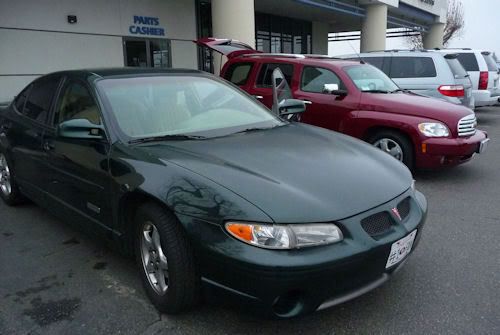 And saying HELLO to this as my new ride! A 2007 Chevy HHR LT...still under 10K miles!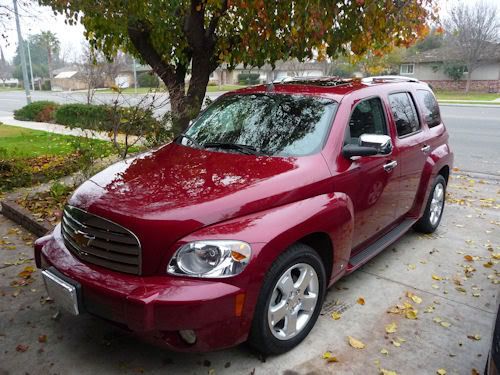 I came close to not buying it, because I thought I'd miss my GTP far too much....but after driving the HHR, and realizing that things were starting to happen to my GTP, I knew it was time for something new!

HAPPY NEW YEAR TO ME!
Said by Kim at 1:06 PM
(PL)|| ||

~*~*~*~*~*~*~*~*~*~
Saturday, December 06, 2008
Yep....I'm still alive....I just spend most of my 'blogging' time on MySpace, and that's just to post a Photo Of The Day. Nothing new here...same shit, different day.

But we did get out for the evening on Nov. 19th to see the west coast tour of Trans Siberian Orchestra! Jeff Scott Soto did two solos that night, and he was FANTASTIC! It was so good to see him live again... I got a smile and nod from him after his first solo, and again when he was introduced about halfway through the show, and again at the end of the show....and I got a hug from him at the meet and greet after the show, plus a picture! He is such a sweetheart...he truly cares about his fans. The rest of the cast was extremely nice as well....we will be going again each year!

Here's the link to my Photobucket with the shots I was able to take:
Trans Siberian Orchestra in Fresno.

And my two videos I took of Jeff's solos...just short snippets - be sure to click "WATCH IN HIGH QUALITY" under each video if you go to my YouTube page itself; and yes, that's my big mouth you hear...LOL:

Prince Of Peace:



Good King Joy:


Said by Kim at 5:54 AM
(PL)|| ||

~*~*~*~*~*~*~*~*~*~