Friday, December 31, 2004


Well, here it is....the last day of 2004. I hope that everyone stays safe tonight, if you opt to head out to celebrate. I'll be home, nice and warm this evening. Too many idjits out there!! Kind of like some of the idjits, one in particular, who just can't seem to stop stirring the pot....even though she claims she wants 'nothing to do with the lot of us.' Yeah, uh-huh....actions speak louder than words, honey....and your actions are barely a whisper. You're one person I wish I'd never come across this year.


Monday, it's back to the grind, and I will be HAPPY to get back to work, where I can relax!
HAPPY NEW YEAR, EVERYONE!!!
Said by Kim at 5:24 AM
(PL)|| ||

~*~*~*~*~*~*~*~*~*~
Wednesday, December 29, 2004
We had some really strange looking clouds pass through here today at about 2 pm. I happened to look out the computer room window, and grabbed my camera to head outside. The clouds were so bizarre looking, and beautiful at the same time. I took about 55 pictures of the different cloud formations, and I didn't really realize it until looking at this particular photo again....this cloud is sporting a woody!!!!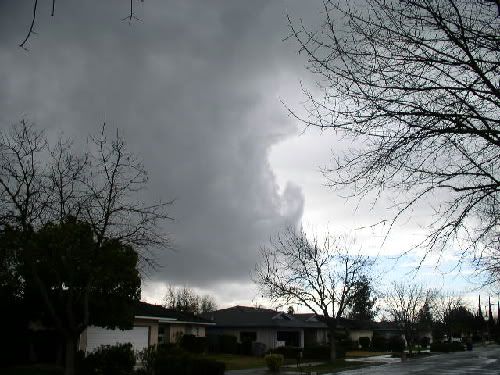 I didn't even pay attention at the time that I took this picture....I was more interested in the upward draft appearance of the cloud. Once I took a second look at the picture this evening, I just about rolled onto the floor!
Said by Kim at 8:03 PM
(PL)|| ||

~*~*~*~*~*~*~*~*~*~
Tuesday, December 28, 2004
We've been getting drenched since last night here with non-stop rain during the night, and periods of heavy rain this morning. It's supposed to last most of the week, they say.


And WOO-FRICKIN'-HOO!!!! My Fresno State Bulldogs pulled it off Monday! They beat #18 Virginia in the 2004 MPC Computers Bowl! (Formerly the Humanitarian Bowl). We won in OT 37-34! GO DOGS!!!!

But what is it with all of the corporate named bowls now? What happened to the plain old "Orange Bowl" or "Cotton Bowl?" Now we have to have bowl games carrying the names of corporate sponsors....it irritates the hell out of me.


I'm not ready to take my tree down just yet....probably on Friday I'll take it down. I hope it rains like a sonofabitch that night, so the idiots won't be able to light their damned firecrackers at midnight.


Sounds like most everyone had a good Christmas. It's hard to believe it's here and gone. And I'm already seeing VALENTINE'S DAY decorations and cards! I had to run to Wally World this morning, and they are getting their card displays together already. Geez, it's not even New Years yet!

Said by Kim at 11:57 AM
(PL)|| ||

~*~*~*~*~*~*~*~*~*~
Sunday, December 26, 2004
So, Christmas 2004 is now a 'wrap'. I hope everyone had a wonderful day! We always open our packages on Christmas Eve. I got a KILLER San Francisco 49er jacket! My other jacket that I always wear when Kathy and I go to the Fresno State football games was getting so worn out!

Barbies were also the order of the day....I bought 3 of them, and Mom/Dad bought one of them. I got the usual Holiday Barbie, and I jumped on the #2 Hard Rock Cafe Barbie, learning my lesson from not getting the #1 HRC Barbie when they were available. I also got a couple of the "Lounge Kitties" Barbies...they are so cute...but I was rather pissed when I opened the packaging holding one of the Lounge Kitties....the box managed to get bent during shipping, so I'm rather pissed about that: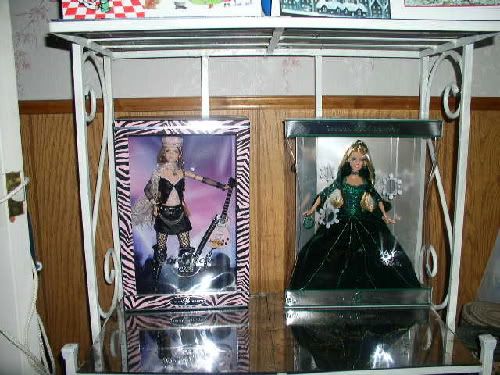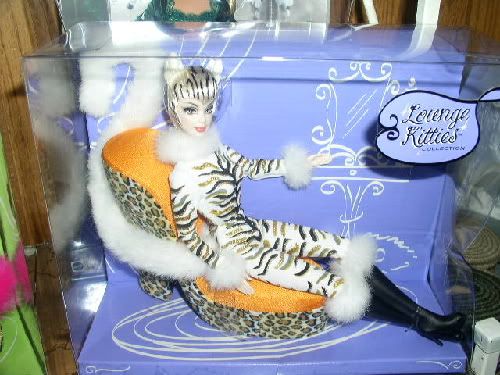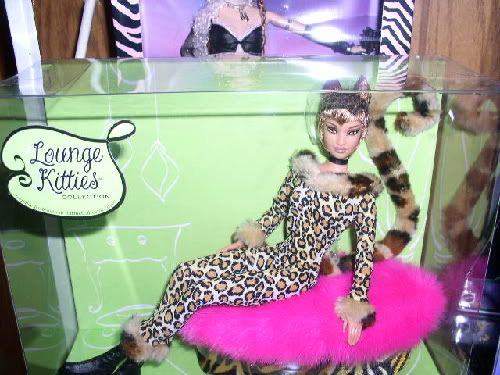 Christmas Day dawned as a very foggy morning: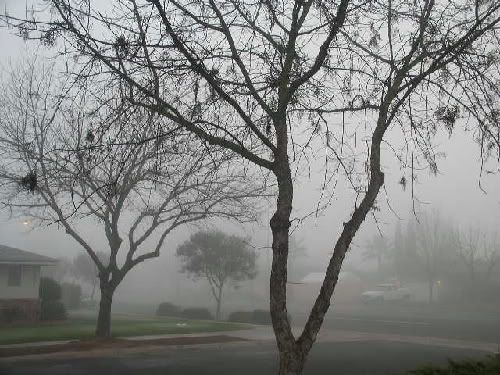 My brother had invited us to go with him and his wife up to one of the local tribal casinos for the day earlier in the week, but Mom didn't really feel like getting out on the road with all of the fog, plus it's getting really hard for her to walk, let alone her heart pains when she overexerts herself. He called us at about 8:30 Christmas morning to give us one last chance to go, and Mom declined....at first. After she hung up, we talked about it, and she said that since it was getting late to get a turkey into the oven, we'd take a drive up.

This particular casino is one we haven't been to yet...it's been open for a couple of years, but the road to get there isn't the greatest....for those familiar with the road to Yosemite from Fresno (Highway 41), you already know! But the fog gave way to BEAUTIFUL sunshine as we drove: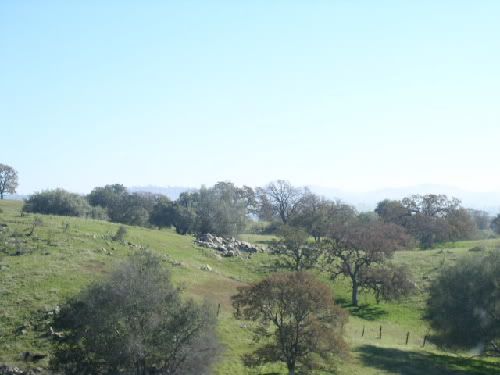 I tried to get a clear shot of the snow-capped high Sierras, but this was the best I could do in a 60 mph moving car: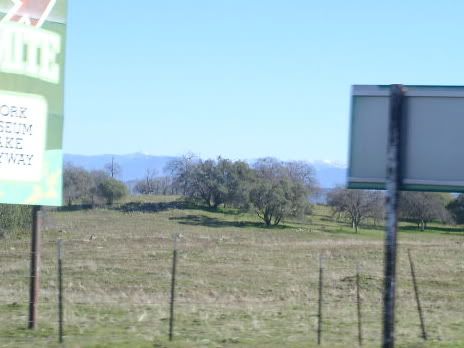 We arrived at the casino at around noon, and it's a really pretty place - they have a hotel, and they have some rather big name entertainment that swings through.....this would be a KILLER place for a Lep concert...LOL....it may not be as glitzy as Vegas, ladies, but who cares when LEP is involved: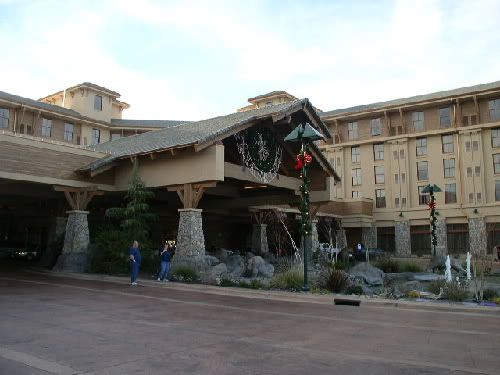 We played for about a half hour, and then we went to the buffet for something to eat....it was actually very good. A dessert bar to die for! After that, we went back out to play some more, and Mom hit $300 on a quarter machine. I didn't win squat. We found my brother, and he hung around with us until we left. It was a fun way to spend Christmas.

Then, this was the SPECATCULAR sunset that we had on Christmas night: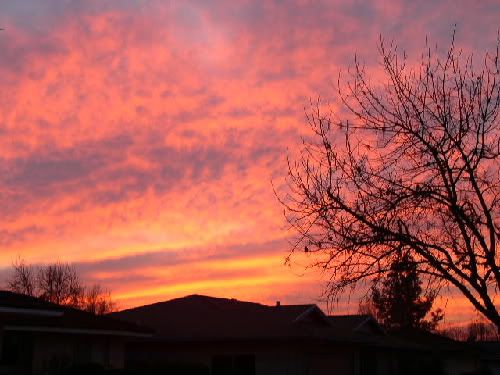 Man, I'm turning into a photoblog, aren't I? LOL! But that was my Christmas....I can't wait to hear about everyone elses! Now, it's time to get ready to meet Kathy at Starbucks at 9 this morning......SHOPPING is the order of the day!!!


Said by Kim at 5:32 AM
(PL)|| ||

~*~*~*~*~*~*~*~*~*~
Thursday, December 23, 2004


I want to wish everyone out there a very MERRY CHRISTMAS! May you have a blessed day with your family, and friends.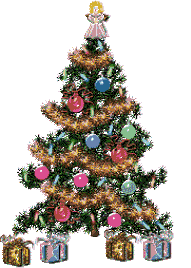 Said by Kim at 7:25 PM
(PL)|| ||

~*~*~*~*~*~*~*~*~*~
Wednesday, December 22, 2004
At 4 pm today, I can say that, and MEAN IT! I begin my vacation at 4 this afternoon, and I won't be back to work until Jan. 3, 2005. I'm going to do some baking tomorrow...just a few cookies for us, and for my brother.


Oh, Rhonda....the Christmas card I mailed to you a couple of days ago came back....seems I forgot to put a stamp on it.
I'm dropping it back in the mail today...hopefully you'll receive it before Christmas!


I walked down the street yesterday evening, and took a couple of pictures of some of the other Christmas decorations. No one is really decorating this year in our neighborhood. Usually there are alot of lights, but not that many this year.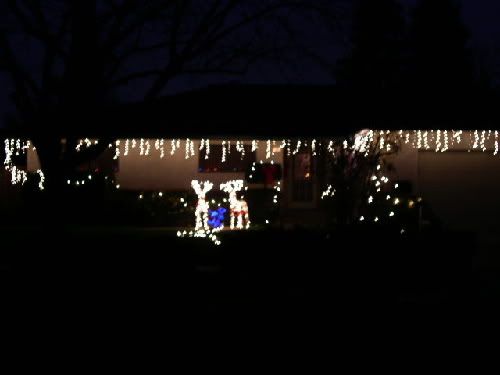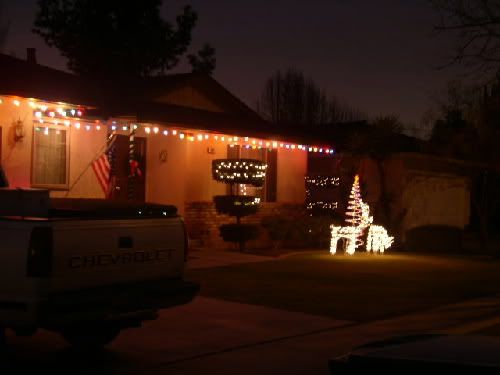 We had a little baby shower for one of the girls at work yesterday, but the turnout was rather paltry. But there were a couple of people who were out of the office, and the others....well, they're just chumps, so that's for them to carry. But we had fun with the small group that was there.

If you're heading out for your holiday travels, BE SAFE! Have a very Merry Christmas!
Said by Kim at 5:29 AM
(PL)|| ||

~*~*~*~*~*~*~*~*~*~
Tuesday, December 21, 2004
Julie H. posted a couple of pictures of her work cubicle a few days ago, so I thought I'd post a couple of pictures of my 'home' at work:

In this picture, you will see my computer terminal (duh, as if anyone needed an explanation as to what that black box was). On top of my monitor are a couple of stuffed toys, and the American Flag to the side. Up in the upper left hand corner of the cubie wall are pictures of my best bud, Kathy and I, and of Kathy and her daughter Heather, taken when we went to the Balloon Fest here in September. Even though the picture is not clear, under the 98 ROCK bumper sticker there is also a picture of my brother when he was in Afghanistan. And, of course, a picture of JTE graces my wall....along with my many pictures of Steve Young (*sigh*):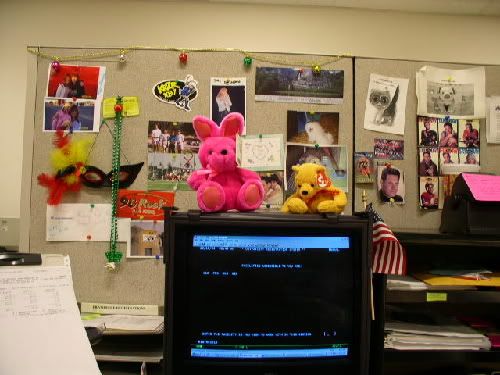 This next picture is of the other side of my cubie....my phone, my Christmas decorations on top, assorted pictures I've taken during my travels to San Francisco, New York City, and Reno; and oh, yeah....a picture of some group: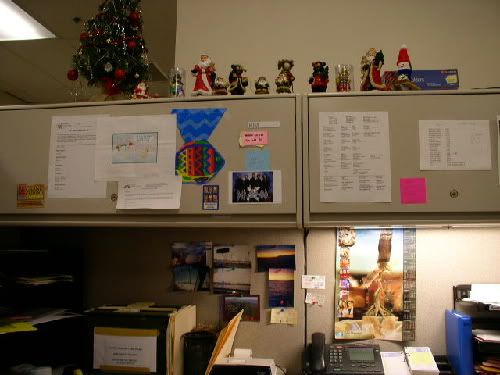 So that's my home at work...quite the mess...but it's mine.
Said by Kim at 5:40 AM
(PL)|| ||

~*~*~*~*~*~*~*~*~*~
Monday, December 20, 2004
Ok....so I've seen this all over the blogs, so I'll give it a shot:

Three Names You Go By:

1. Kim
2. Red
3. Kimmy (If you value your life, you WON'T call me this).


Three Screennames You Have:

1. Fourt9rkim
2. Fourt9rkim
3. Fourt9rkim (do you really think I'm going to divulge all of my screen names???)


Three Things You Like About Yourself:

1. My work ethic
2. My love of animals
3. The wisdom I've gained over the years


Three Things You Dislike About Yourself:

1. My smile - although others disagree

2. My hips

3. My hatred of change


Three Parts of Your Heritage:

1. German

2. Cherokee

3. Irish


Three Things That Scare You:

1. Fire

2. The Dark

3. Rides that go upside down


Three of Your Everyday Essentials:

1. Music

2. The computer

3. Clothes


Three Things You Are Wearing Right Now:

1. Black pants

2. A green sweater

3. Shoes


Three of Your Favorite Bands/Artists (at the moment):

1. Def Leppard

2. Fuel

3. Shinedown


Three of Your Favorite Songs at Present:

1. Slang - Def Leppard

2. 45 - Shinedown

3. Poundcake - Van Halen


Three New Things You Want to Try in the Next 12 Months:

1. Meeting someone

2. Winning a big jackpot

3. More concerts


Three Things You Want in a Relationship (love is a given):

1. Honesty, first and foremost

2. Physical Attraction

3. Great sense of humor


Two Truths and a Lie:

1. I'm a brunette

2. I'm blind

3. I'm a native Californian


Three Physical Things About the Opposite Sex (or same in my case) That Appeal to You:

1. A fantastic smile

2. A sexy voice

3. Sensual eyes


Three Things You Just Can't Do:

1. Twirl a baton

2. Eat broccoli

3. Go on carnival rides that go upside down


Three of Your Favorite Hobbies:

1. Surfing the 'net

2. Shopping

3. Gambling


Three Things You Want to do Really Badly Right Now:

1. Get some cool air in this office - it's FRIGGING HOT in here!

2. Go over to the coast

3. Stuff a Kleenex up the asshole's nose that I have to listen to all day at work


Three Careers You're Considering:

1. Photography

2. Storm Chaser

3. Professional Gambler


Three Places You Want to Go on Vacation:

1. Vegas

2. New York City

3. Lake Tahoe again


Three Things You Want to Do Before You Die:

1. Find the love of my life

2. Build a happy home life

3. Win a big jackpot
Said by Kim at 9:40 AM
(PL)|| ||

~*~*~*~*~*~*~*~*~*~
Well, this is the final countdown (insert cheesy Europe music here). Christmas is just a few days away! Does everyone have their shopping done? I DO!!! I only work 3 days this week, then I'm on vacation again until Jan. 3rd. By next Monday, I'll probably be ready to go back to work. That's how bored I get being home. Sad, ain't it? Oh well......

I'll be glad when New Years Eve is over....people around here act like idiots, shooting off firecrackers, bombs, whistler fireworks...the poor dogs go nutso. Aren't you supposed to stay indoors and kiss the one you're with at midnight?

Have a safe week, everyone!


Said by Kim at 5:18 AM
(PL)|| ||

~*~*~*~*~*~*~*~*~*~
Friday, December 17, 2004
Our 2004 Business Office Christmas Dinner is in the books. Wouldn't you know that I neglected to recharge my digital camera batteries last night, so I only got one shot of the inside of the restaurant. Damn it! But this is part of what the inside of Tahoe Joe's looks like....it really doesn't do it justice...it was really nice inside, with the strings of Christmas lights strewn about, and the Christmas trees.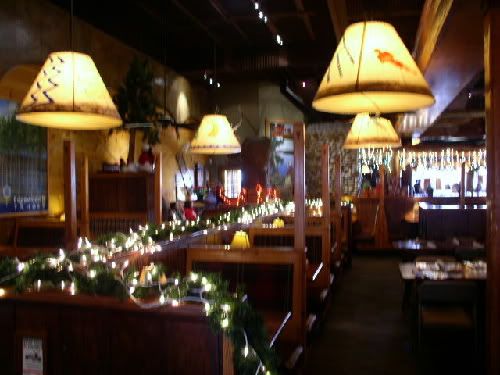 Tahoe Joe's is designed to give you a feeling of being in a rustic mountain cabin, with paintings of various scenes of Lake Tahoe on the walls. I love the ambiance inside!

Anyway...our boss ordered three different appetizer plates for us....Super Nachos, fried shrimp with what tasted like a coconut batter, and Onion Strings (*YUM*!!!). She did a brief presentation of Thank You gifts to several people for various reasons. The first three people were awarded M&M Coffee Mugs filled with M&M's for staying current on their desks this year, and yours truly received one! I'll have to post a picture of it when I recharge my batteries. It's really cute!


We ordered our dinners after that....several people ordered different types of steaks; I ordered Lemon Caper Chicken with Pasta Primavera. It was okay....I've had better.

After everyone was finished eating, we did our Ornament Exchange...with a twist this year. We all drew numbers, and we picked a bag/box according to our number. The twist was, you could either choose a bag/box, or you could 'steal' the ornament that someone before you had picked. I was #5 to choose, and I chose a rather large gift bag. WAYYYYYYY down at the bottom were two cone-shaped bouquet ornaments. Thankfully, someone 'stole' them from me, so I got to choose another bag. This time, the bag contained a beaded candle holder. Now, how in the hell do you hang a candle holder on the tree?? I hoped and prayed that someone would steal this from me, and someone did! So I got to choose again, and I stole this ornament from the 'Old Man' that works in my quadrant: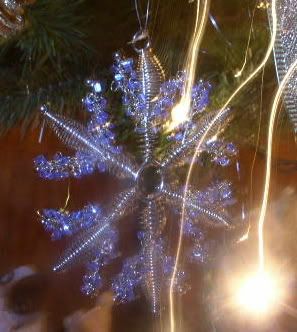 I'll try to get a better picture over the weekend....it's SO me! All in all, it was a good time, and alot of laughter. And holy crap, when we were leaving, you should have seen how many people were waiting for a table! There must have been AT LEAST 75 people waiting. There were a couple of other office parties at the same time as ours, so tables were short until we started to leave. I'm glad I went.
Said by Kim at 7:49 PM
(PL)|| ||

~*~*~*~*~*~*~*~*~*~
Today is our Christmas Dinner day....we're all decked out in some fancy duds, I'll tell you! Fridays are normally our 'jeans' day, but since we're having our Christmas Dinner this afternoon, we're dressed in more festive holiday wear. And I don't feel like being very productive today. But I must, so I shall in a moment.


But I have to laugh at the gall of someone who is actually going to report those who comment on her blog in a differing point of view from hers, to their ISPs. LOL!!! Get a fricking clue, honey.... it's as simple as using the BAN function on your Haloscan account (you know....that account that you share with your alter ego?). You DO know where to find it, don't you? LOL...get over yourself, darling...you're not that deep. You love to dish out the flames, but when they lick at your ass, you tuck tail and BAN, BAN, BAN.


I have a busy weekend ahead of me, it appears. I have to take my car somewhere to get a smog check tomorrow, since that's the only day I'll have time to do it before the 28th, the deadline to renew my car tags. So I have that to do, plus wrapping all of the Christmas presents I've bought, plus finding a baby shower gift for a baby shower we're having here at work next Tuesday during lunch. Oh, and add getting a birthday present for Dad, since his birthday is on the 27th. WHEW!


And if anyone is looking for an alternative laxative....I highly suggest a Starbucks Venti White Chocolate Mocha...works like a charm for me every time I have one. Yeah, I know...TOO MUCH INFORMATION!!! But there must be something in this drink that doesn't agree with my system....but what the hell, I LOVE 'EM!!!


Now, back to work for me....who am I kidding...I haven't even done a stitch of work yet this morning, and I've already been here for two hours!
Said by Kim at 9:17 AM
(PL)|| ||

~*~*~*~*~*~*~*~*~*~
Thursday, December 16, 2004
Ok...so our Office Christmas Lunch/Dinner, whatever you want to call it, is tomorrow afternoon. In leiu of exchanging gifts, we are doing an 'ornament exchange.' We did it last year, and it was a cool way to get a great ornament. I, for one, *LOVE* ornaments. We spend up to $10.00 for an ornament.


So, the dilemma....I found this cool set of three red ornaments at Macys last weekend. They were on sale for 40% off. The original price was $12.99, and I got them for $7.77 (maybe I should have hit the casino that day with a price like that!). Thing is....I *REALLY* like these ornaments. So, do I part with them, or should I keep them, and go get something else for the exchange? I would hate for someone I can't stand to get MY ornaments!



Said by Kim at 8:01 AM
(PL)|| ||

~*~*~*~*~*~*~*~*~*~
Wednesday, December 15, 2004
First of all....to the assholes who keep hitting here, under a search for "Kim Possible Porn"...GET A F*CKING CLUE!!! You won't find that here! (yeah, I know...now I'll get more hits....BITE ME BASTARDS!!)


Now, my second rant, which is work-related:


Why is it that we have the dumbest morons working in our IT department? Ever since they upgraded our Operating System to Windows 2K a month ago, it's been a nightmare trying to print out my RABS reports. What once took no more than two minutes for bringing the report up onto the screen, to printing the report, now takes AT LEAST 5 minutes. Our IT department swears that it isn't a local issue, that this is probably related to the ACRS server (ACRS standing for Automated Cash Reconciliation System), which is God knows where. I called my contact person who maintains the ACRS system, and he remotely connected with my computer, and looked around in my system while I had him on the phone for a good half hour....looking for missing files from the upgrade that might have gotten lost. He said that it WASN'T an ACRS server issue, and that he would open up a problem ticket for me. Has our IT department called me back yet?? HELL NO!!! This has been over a week ago now.


I dread each day when I go to print my reports now. All because our IT department is full of FREAKING IDIOTS!


Back to your regularly scheduled thoughts............
Said by Kim at 10:40 AM
(PL)|| ||

~*~*~*~*~*~*~*~*~*~
Yep...they always say it's the 'quiet ones' you have to watch....and I was always the 'quiet one' in my youth. HONEST!!! Found this on Rhonda's blog:



Unsuspecting Nightmare


What sort of Nightmare are you?
brought to you by Quizilla

Said by Kim at 7:31 AM
(PL)|| ||

~*~*~*~*~*~*~*~*~*~
Tuesday, December 14, 2004
First of all, thank you everyone for the condolences on the loss of our little puppy. He is going to be deeply missed.


And with that, it was 2 years ago on this date that Kathy, her husband Dean, and I made our way through a hellacious storm to drive to Oakland to meet up with my dear friend Bruce, and make our way over to San Francisco to see Ricky Warwick and Def Leppard on the "X" tour! Man, what a trip and show! Those who have the bootleg recording of that show know what I'm talking about....and those who were there know what I'm talking about!


I'd drive through that storm again to see another show!
Said by Kim at 5:58 AM
(PL)|| ||

~*~*~*~*~*~*~*~*~*~
Monday, December 13, 2004
We just lost the little brown boy tonight. He was doing fine until this morning at about 4 in the morning...he started gasping, and wouldn't take any milk. He was still with us when I came home from work, and I watched him, and held him until about 6:30. I knew he wasn't going to be with us much longer. He was getting weak, his eyes wouldn't close and his breathing was becoming more shallow. I came back about 5 minutes later and he was gone.


The little guy was a fighter, though. But he probably wasn't right to begin with, because Mindy kept trying to 'discard' him by bringing him out of the box onto the floor.


He's at the Rainbow Bridge now...playing with all of the other little puppies. This was the last picture I took of him on Saturday. Be free, little one....we loved you so much.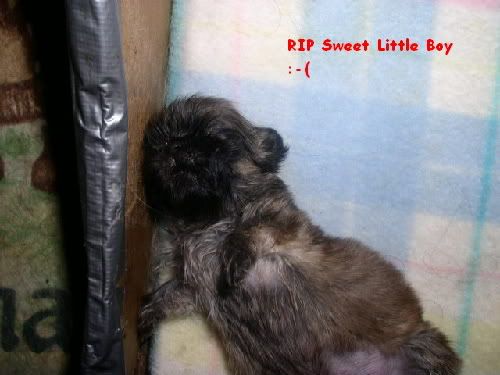 Said by Kim at 6:50 PM
(PL)|| ||

~*~*~*~*~*~*~*~*~*~
Scott Peterson has received the Death Penalty. I hope Laci's family can now find some semblance of peace. RIP Laci and Connor.
Said by Kim at 1:51 PM
(PL)|| ||

~*~*~*~*~*~*~*~*~*~
Another Monday....bleh.


I can't believe it...the Niners actually WON a game yesterday! This has been a year to forget, that's for sure.


And damn it....I need to get my car smogged this year. So I know what I'll be doing this Saturday, since I only have until the 28th to get it done.


Not much else to say this morning.........
Said by Kim at 8:23 AM
(PL)|| ||

~*~*~*~*~*~*~*~*~*~
Saturday, December 11, 2004
Well, the sales weren't all that great at Stein Mart. They have some really nice clothes, and really 'nice' prices. So I didn't buy anything there. I started out at Macys....they were having a good sale....I did find a Jones New York top to wear to our office Christmas lunch/dinner this coming Friday. We're going to a steakhouse called Tahoe Joe's. I've had dinner there before...I *LOVE* the Whiskey Peppercorn Chicken!


I also found a cute Liz Claiborne purse at Macys marked down to $15.00. I could have bought alot more, but I'll wait for the after Christmas sales. Kathy and I are going to the sales the day after Christmas, so that should be fun!


Other than that....it's foggy as hell outside, and it's a wet fog. Bleh.
Said by Kim at 1:09 PM
(PL)|| ||

~*~*~*~*~*~*~*~*~*~
Friday, December 10, 2004
Happy Friday!! Woohoo! I plan on heading to SteinMart tomorrow for a phat sale. What I'm looking for are tunic-length sweater tops to wear to work. I don't like the short sweaters that are out there right now. Hopefully I'll find something!


I took this picture of the sunset last night....it was freakin' awesome! The picture doesn't really do it justice, but I'm sharing it anyway: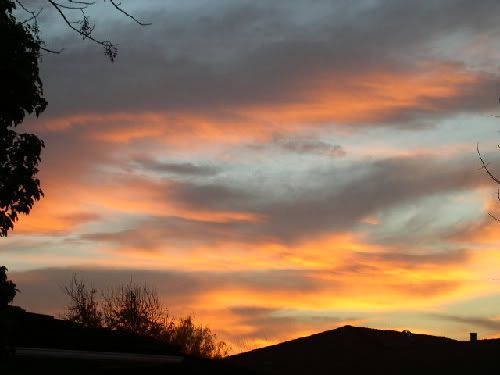 Said by Kim at 5:36 AM
(PL)|| ||

~*~*~*~*~*~*~*~*~*~
Thursday, December 09, 2004
I had a voice mail from the Revenue And Banking Services department waiting for me when I returned from lunch. RABS is where I transmit all deposit reports. Welllll, it seems that they couldn't import the deposit report for one of our satellite clinics for the date of November 15th due to a balancing error. I pulled the folder out, and low and behold....my 'lovely' back-up was doing this facility the week before my vacation, and he transmitted the totals WHEN THEY WEREN'T EVEN BALANCED!!! He completely omitted entering the deposit total for Auto-Reg (monies collected from the point of registration at the clinic offices in this particular facility), which totalled $1,770!! Now, it wasn't hard to notice that this report wasn't balanced, considering the deposit boxes were still RED! When you balance, the boxes turn green. They were far from green, yet he transmitted this!


I showed this to our Assistant Manager, (who is clueless about how I perform my job) and all she could say was, "Well, doesn't "Y" make mistakes, too?" "Y" being our float clerk, who was the batch clerk before me. Yes, she has made mistakes, but at least she LISTENS when I explain things. This friggin' moron cuts people off with "Yah, yah, I understand, is ok." GAHHHHHHHHHHHHH!!!!!!


And just think....he gets to cover my desk again in a couple of weeks when I'm on vacation during Christmas. Just f-'in jolly.
Said by Kim at 1:52 PM
(PL)|| ||

~*~*~*~*~*~*~*~*~*~
Wednesday, December 08, 2004
Here's some new pictures of the puppies that I took last night. The little runt is doing better...he's gained a couple of ounces in the last couple of days, and he looks like he's growing some. His little legs are still so tiny compared to his siblings, though! But they are all doing well. We'll probably start trying to feed them some baby cereal starting this weekend.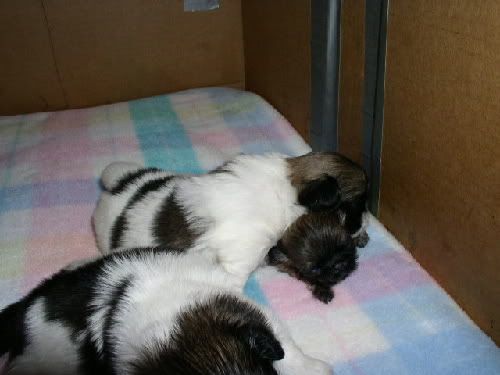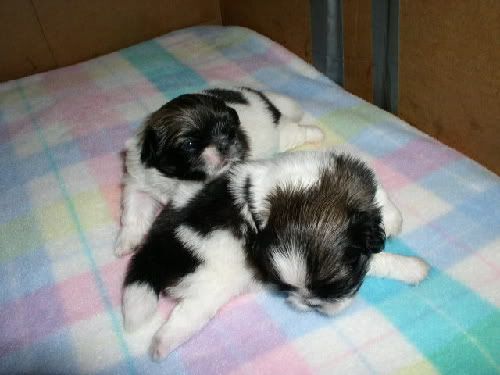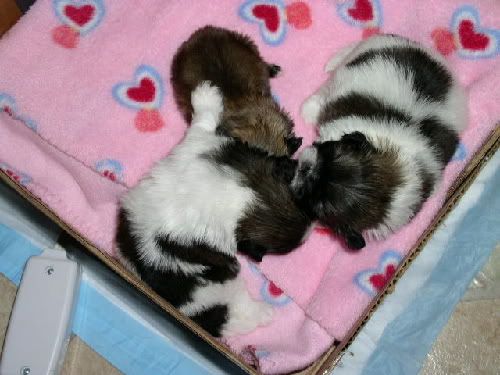 Said by Kim at 5:19 AM
(PL)|| ||

~*~*~*~*~*~*~*~*~*~
Tuesday, December 07, 2004
We have another birthday to celebrate! It's Tracey's birthday! I hope you have a wonderful day, darlin'!
Said by Kim at 7:50 AM
(PL)|| ||

~*~*~*~*~*~*~*~*~*~
Monday, December 06, 2004
In Danni's latest entry on her blog, she talks about having her Glamour Shots done, and how much fun she had doing it. I did the same thing about 14 years ago, and like Danni, I had a blast doing it! You get pampered, and primped, and you have your photo taken in different outfits. You feel so glamourous when you're doing it! If we still had a Glamour Shots, or Cover Shots here in town, I'd do it again!


Here's some of my photos...mind you, it was 14 years ago, and my hair was ALOT shorter then. If anyone else has had your Cover Shots done, let's see them!! Unless, of course, you're hiding behind an alias and you're too chickenshit to show your face.
Said by Kim at 5:55 AM
(PL)|| ||

~*~*~*~*~*~*~*~*~*~
Saturday, December 04, 2004
We have a December birthday baby in the house! Today is Karen's birthday! I hope you are having a great day, darlin'!!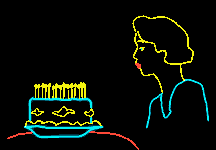 Said by Kim at 2:22 PM
(PL)|| ||

~*~*~*~*~*~*~*~*~*~
Friday, December 03, 2004
Damn, this has been the shittiest week at work in quite awhile! First, I come back from a week off, and find that the pharmacy reports from Friday, and Sunday were BLANK!!! Yet Saturday's reports printed just fine. WTF???
So I called the PIMS Help Desk, and ask if they can reprint. They ask what the printer destination is, and that's where the fun starts. Ever since we've moved offsite from the hospital, my printer has had a different destination number sticker on the front. Different from the destination number it had at the hospital. So I give the girl the number on the sticker, and she says that doesn't sound right. I give her the old number, and nothing happens until 20 minutes later. This is NOT what I need on a Monday!


We finally get the destination number figured out as the old number, after several phone calls back and forth. But, she'd already generated my reports in the meantime where she was, in Livermore. Well great, can you fax them to me, I ask? She said there was at least 50 pages. So she had to send them interoffice mail, which meant they wouldn't be in Fresno until Wednesday or Thursday. F'ing great!


Once I get that taken care of, I'm sorting through the work my 'back-up' did during my absence. Mistakes! I corrected those, then proceed to tackle the bankcards from the weekend.


Tuesday, I come in, and the damn pharmacy reports for Monday are BLANK!!!! So I call the help desk AGAIN, and had the reports regenerated.


Tuesday, I also try to print another report I needed on the printer next to my printer. Now, I could print my reports FINE before vacation....this week, NOTHING! But that wasn't as big a concern as not getting my other reports.


By Wednesday, I was finally starting to get caught up, except for waiting for those weekend reports to come by interoffice mail, which happened on THURSDAY! Damn good thing, because today, Friday was month-end!


Combine that, with puppy/family worries/stress AND PMS'ing, and it's been ONE HELL OF A BAD WEEK! But hopefully the weekend will be smooth.
Said by Kim at 6:17 PM
(PL)|| ||

~*~*~*~*~*~*~*~*~*~
Thursday, December 02, 2004
I went to Tower Records during my lunch hour, and I saw 2 copies of Def Leppard's "Best Of" 2-CD import! (AHEM, KATHY!!! GET YOUR BUTT TO TOWER!) The price was $31.99. So for those of you who didn't get a chance here in the States to order from the UK....see if your local Tower Records is carrying it!
Said by Kim at 2:12 PM
(PL)|| ||

~*~*~*~*~*~*~*~*~*~
Just a quick update....the little guy is still hanging in there! Now we're having problems with Mindy taking him out of the box during the night, and at times during the day. I'll be so glad when they start walking, and becoming self-sufficient.


And as if the internet drama going on right now wasn't enough.... home drama is getting on my nerves now! I won't expand on it here, but let's just say you can measure my stress level by the condition of my cuticles!
Said by Kim at 7:39 AM
(PL)|| ||

~*~*~*~*~*~*~*~*~*~