Wednesday, November 30, 2005
Sunset this evening: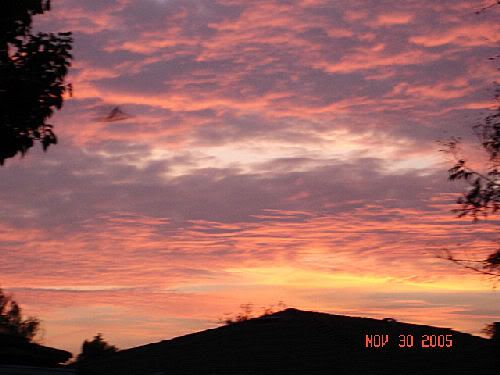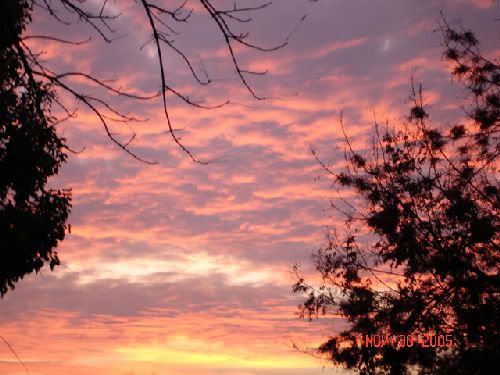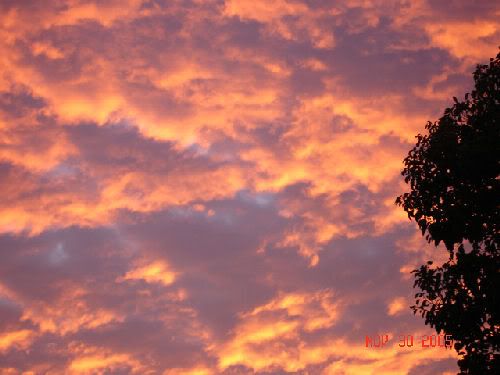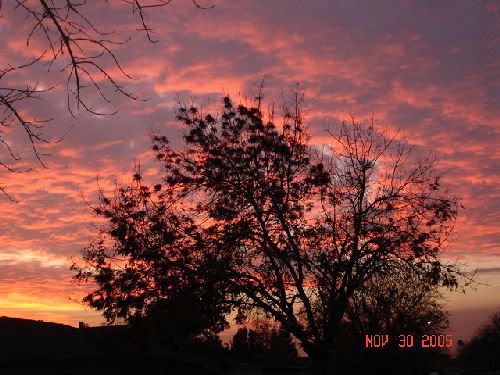 Here's a video from work today....



Geez I have alot of CD's at work!



Another of my favorite songs...and yes, the camera is shaking, because I'm groovin' with the song....LOL:


Said by Kim at 6:35 PM
(PL)|| ||

~*~*~*~*~*~*~*~*~*~
Monday, November 28, 2005
Today was 'back to work' after a week off...THANK GOD! Saw this rather cool sunrise on the way: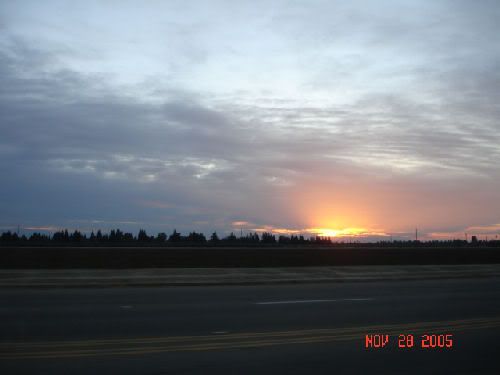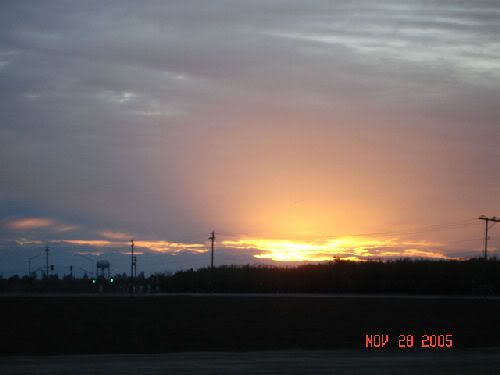 Ratty seemed rather happy to be back with her buddies, Baby Shit and Pinky. But I was shocked when I took Ratty out of my purse....seems the little wench snuck out and got another piercing....since she doesn't have a belly button...it looks like she had her tail/butt pierced....I knew this was a wicked little one: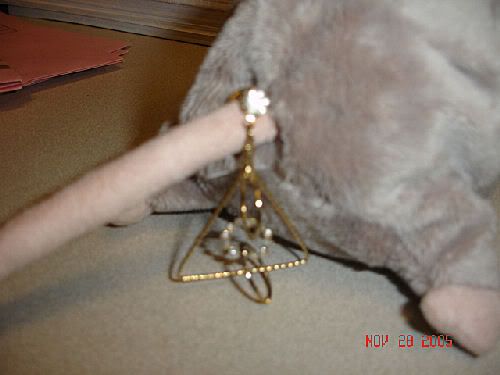 She also snuck into my jewelry box and borrowed a different pair of my earrings...God love her though....she's into bling bling just like her owner: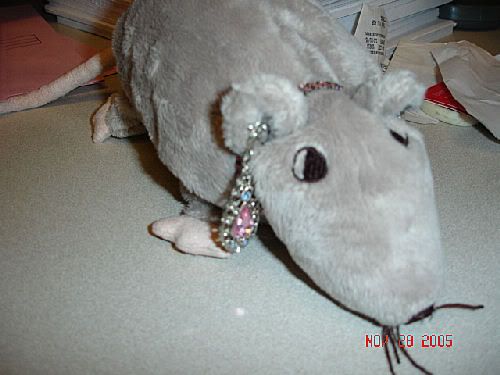 Ratty was excited to see her buddies again...but the feeling was NOT mutual: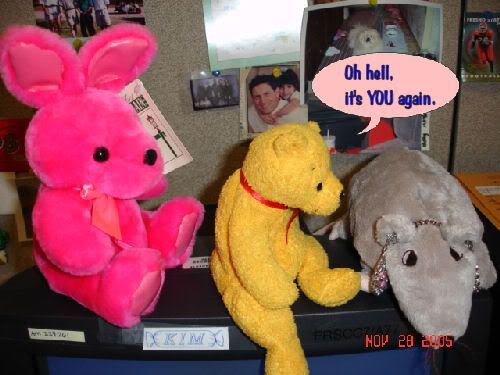 Baby Shit took it rather hard: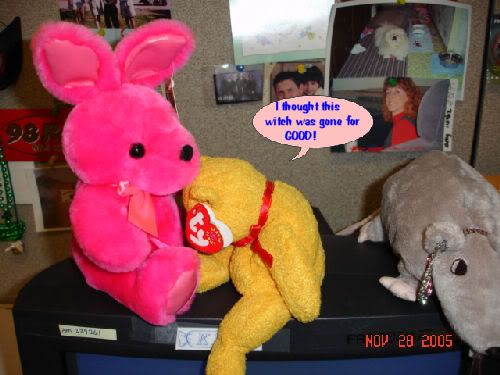 Pinky consoled Baby Shit: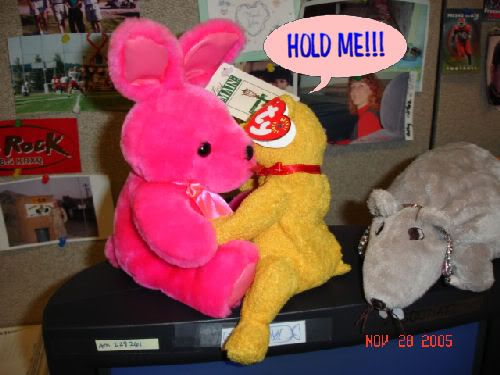 Finally, Baby Shit reminded Ratty of just who the boss REALLY is around work, in case Ratty forgot while we were on vacation: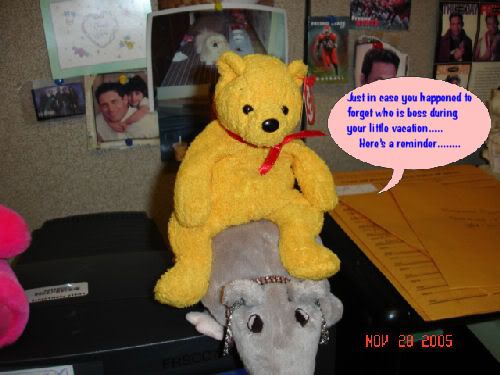 We had a nice sunset on the way home: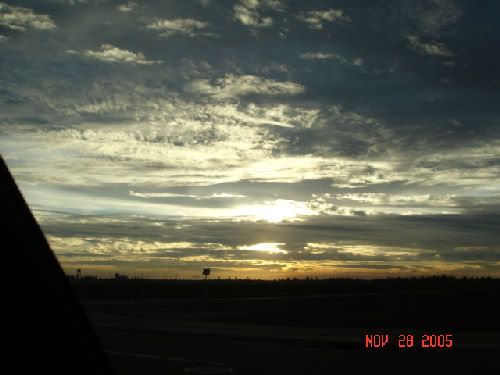 And this was just before the sun was completely gone: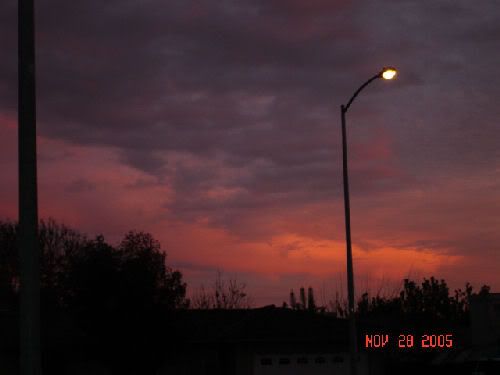 Said by Kim at 6:43 PM
(PL)|| ||

~*~*~*~*~*~*~*~*~*~
Sunday, November 27, 2005
I put my Christmas tree up in the computer room on Friday....I see that I have an ornament that must be a long lost brother/cousin/something to one of Lexy's newest 'kids', Steve:




He just sits there on the tree and stares at me. Kinda freaky: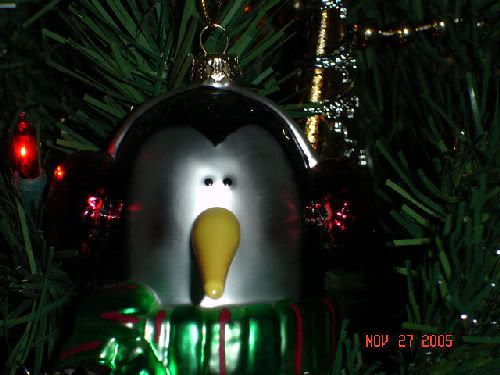 Here's the finished product....I'm not happy with the way it turned out this year, but I'm not going to re-do it.....screw it: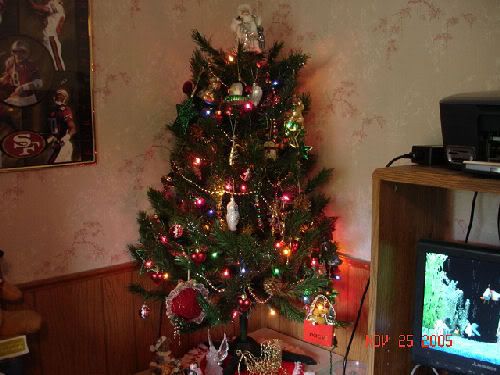 Said by Kim at 6:21 PM
(PL)|| ||

~*~*~*~*~*~*~*~*~*~
Saturday, November 26, 2005
I got out of the house for a couple of hours this morning....took these while driving around town:



Damn it was windy today:
Here's a feeble attempt at a Christmas display in front of one of the 'upscale' shopping/eating areas of town: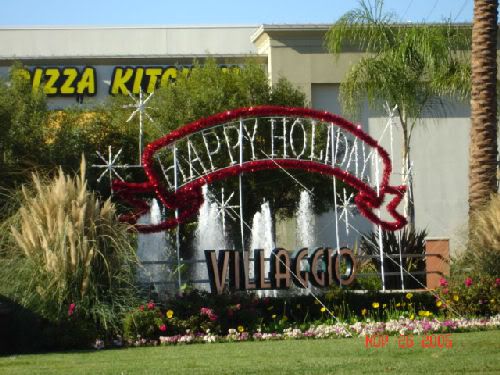 And Ratty just couldn't wait to get her paws on my latest purchase: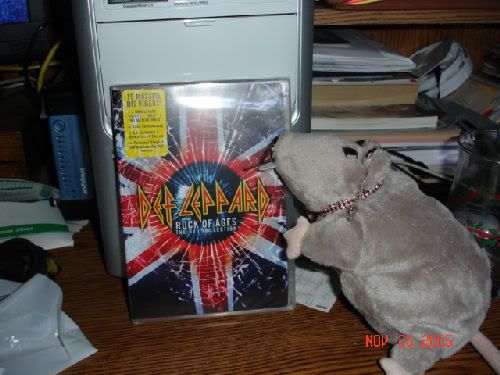 Said by Kim at 7:47 PM
(PL)|| ||

~*~*~*~*~*~*~*~*~*~
I F*CKING HATE VACATIONS spent at home.....'nuff said.
Said by Kim at 5:45 AM
(PL)|| ||

~*~*~*~*~*~*~*~*~*~
Wednesday, November 23, 2005
Oooooohhhhhhh: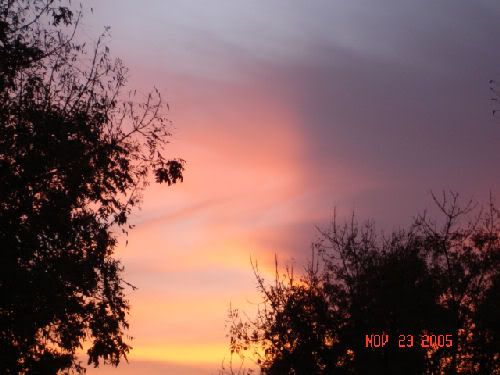 Aaaaaaahhhhhh: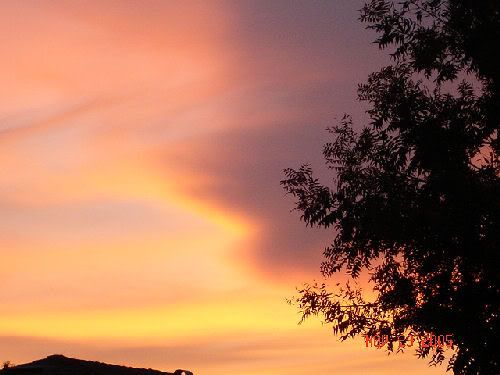 Hey...where'd the sidewalk and street go to??: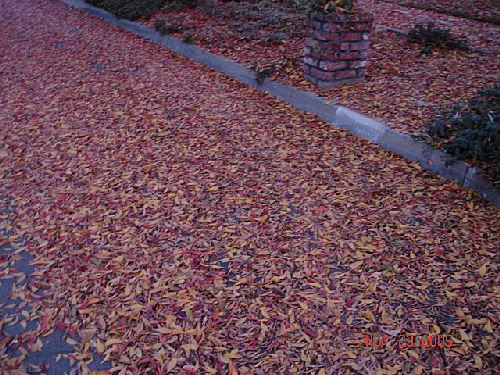 I hope everyone here in the US has a WONDERFUL Thanksgiving holiday!


Said by Kim at 7:52 PM
(PL)|| ||

~*~*~*~*~*~*~*~*~*~
Tuesday, November 22, 2005
Well, look who found my stash of bling bling earrings from the 80's: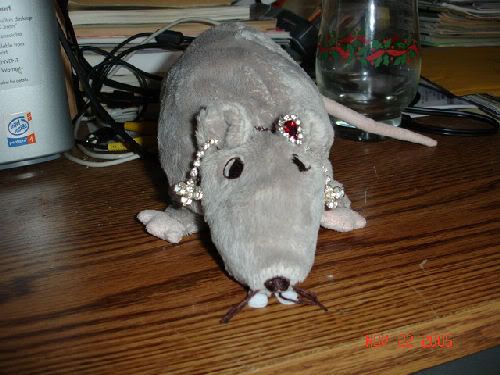 You're missing one, Ratty. Next time, be sure to find the mate....dumbass. You're looking a little pale....maybe you should get some of this California sunshine: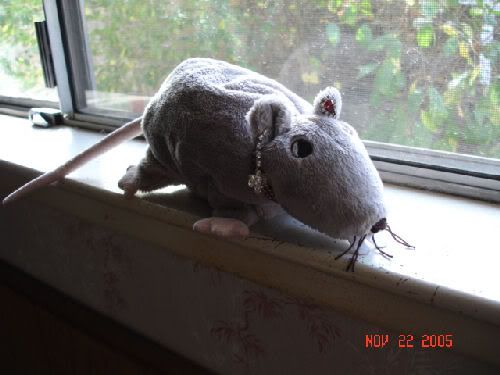 Don't you think that sweatshirt is just a wee bit too big for you? If you could only see how ridiculous you look:




Hanging around with the Barbie Divas isn't going to make you cool, either....don't you know that cats love rats??: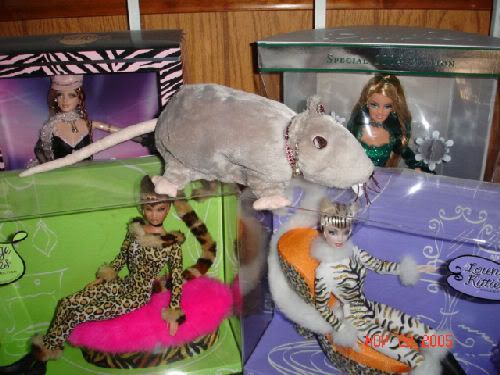 Better get your smelly butt out of Biker Barbie's face...NEVER mess with a redheaded biker chick: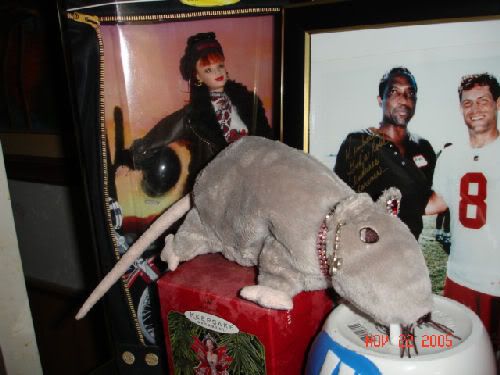 Dorothy doesn't look very impressed with you either....she's about ready to give Toto a reprieve, and stick you in her picnic basket as a present to The Wicked Witch: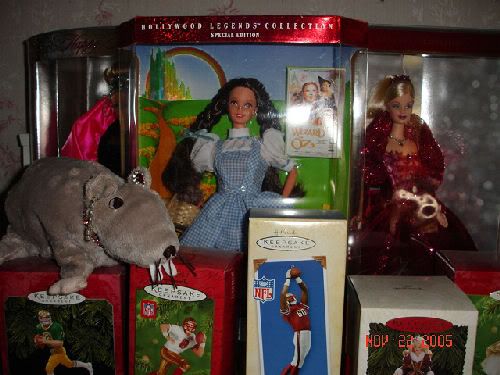 Now, I can totally relate to what you're thinking here, Ratty....I've thought about humping Steve Young a time or two myself...handcuffs and a goal post baby: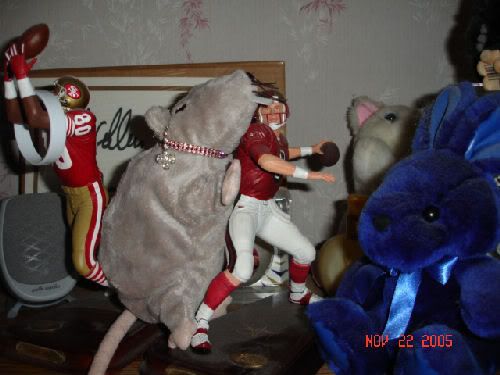 You're asking for trouble by trying to butter up Steve Bear: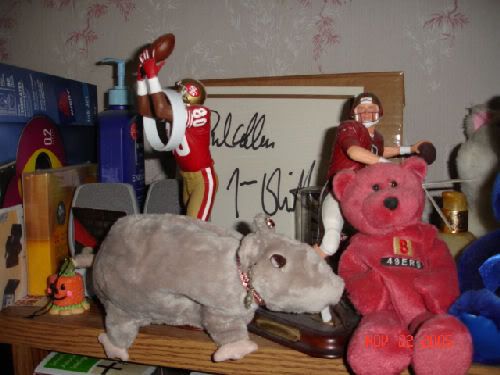 You never listen: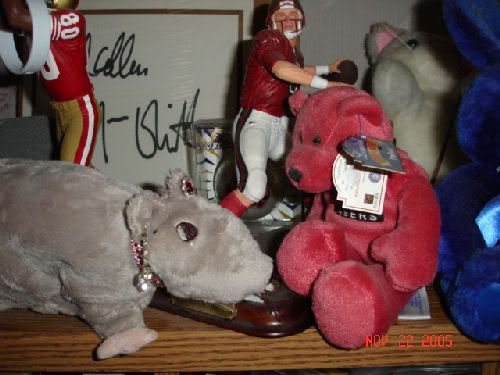 I see that Baby Shit bear isn't the only dominating one:




You aren't gaining very many friends....even the pumpkin doesn't like you: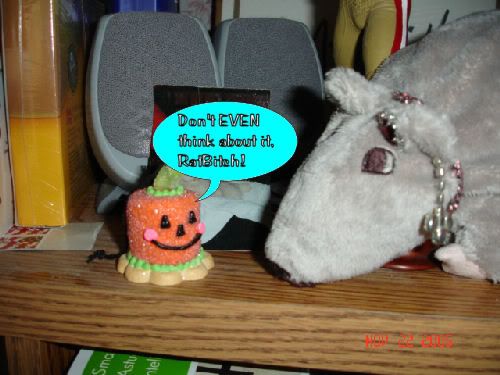 Don't look so long in the tooth, Ratty....at least you're on top of SOMETHING, finally: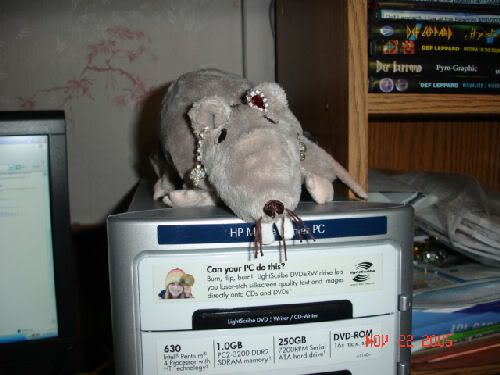 Said by Kim at 7:20 PM
(PL)|| ||

~*~*~*~*~*~*~*~*~*~
Monday, November 21, 2005
Turn it up so you can hear the leaves crunching beneath my feet:


Said by Kim at 5:02 PM
(PL)|| ||

~*~*~*~*~*~*~*~*~*~
Sunday, November 20, 2005
Yeah...shoot me...more driving videos. I had to make a Krispy Kreme run for mom this morning, so I took the camera along. I forgot to take Ratty along for a ride, damn it. And I don't know if I'm going to survive another 7 days of being home. Day 2 and I already want to blow my brains out.

Anyway....these are all in the north part of town....


Said by Kim at 5:09 PM
(PL)|| ||

~*~*~*~*~*~*~*~*~*~
Well hell....the 'Dogs gave the University of Spoiled Children all they could handle last night, but we couldn't contain their running back, Reggie Bush from racking up 513 all-purpose yards by himself, to help the Trojans win the game 50-42. What are 'all-purpose yards'? For those who don't follow football, it is the yardage that a player accumulates by rushing, receiving, and in Bush's case, returning kick-offs/punts.

Bush had:

294 yards rushing
68 yards receiving
151 yards on returns.

He was running around like a mad man. He is a strong candidate for the Heisman Trophy this year.

But we had them on the ropes in the first half....came out flat to start the second half. But we gave them a tough fight....one of the toughest they've had during USC's 33-game win streak. Good game, 'Dogs!

**********************************************
The leaves are falling, so I got outside yesterday afternoon and took some pics before they are all gone: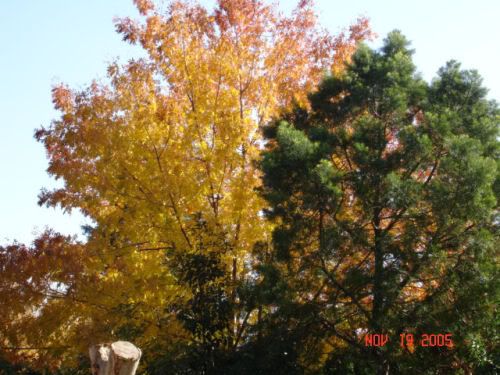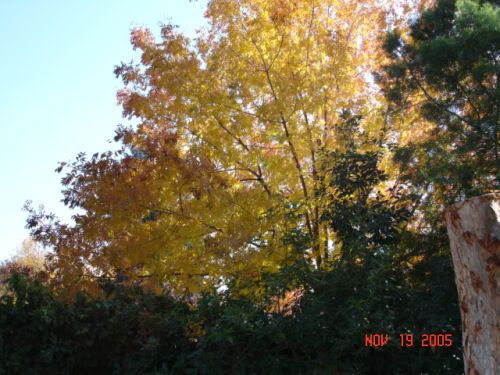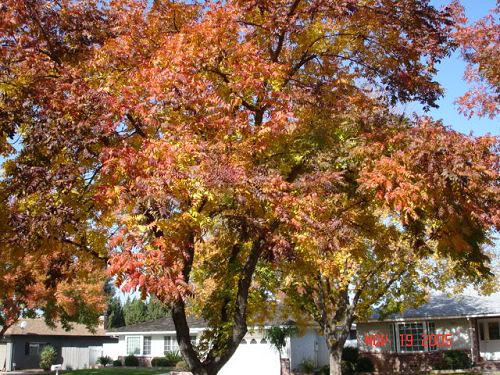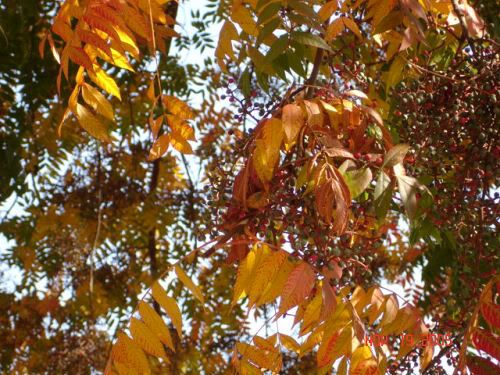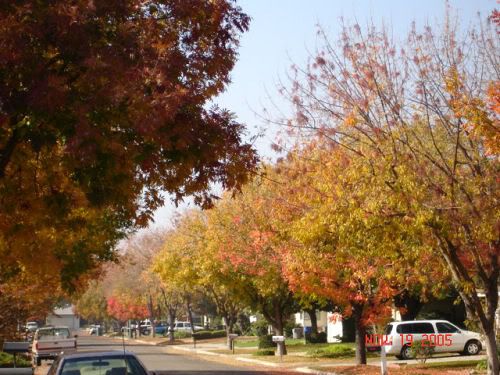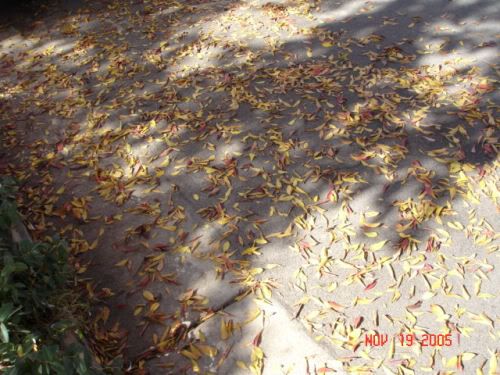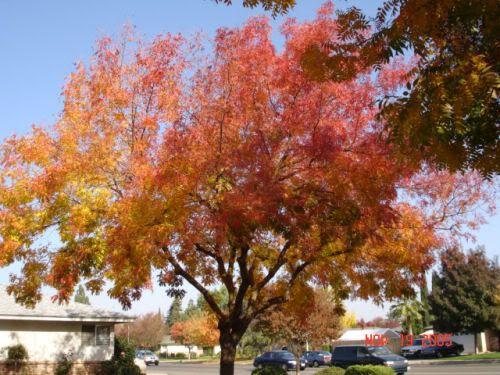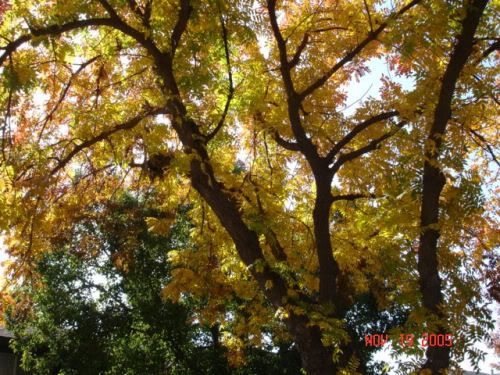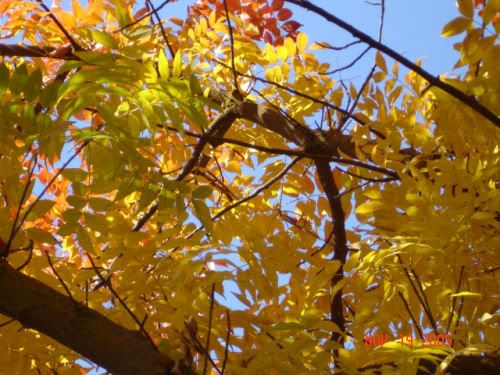 And here's one of our males, Toby....please excuse the showing of the teeth....Toby is 9 years old, and he's lost some of his teeth with age....but he still runs around like a little puppy...and he's such a little lover: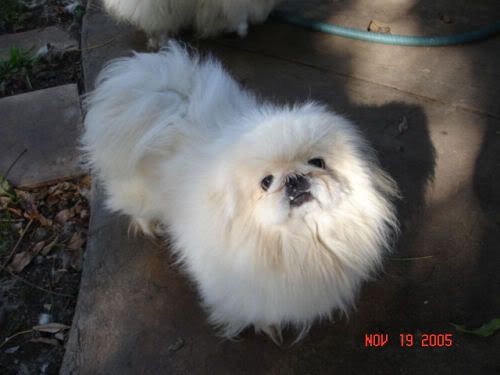 Said by Kim at 5:22 AM
(PL)|| ||

~*~*~*~*~*~*~*~*~*~
Saturday, November 19, 2005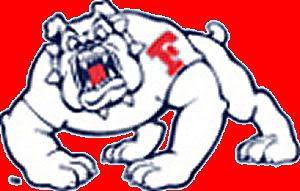 Today is THE BIG GAME! 17th ranked Fresno State will take on the #1 College football team in the country, the USC Trojans in football tonight! GO DOGS!!! SHUT THOSE SNOBBY USC TROJANS UP, AND WIN!!
As Coach Pat Hill says: Just shut up and hit somebody!
GO DOGS!!!!!
Said by Kim at 5:30 AM
(PL)|| ||

~*~*~*~*~*~*~*~*~*~
Friday, November 18, 2005
I had to go to the bank at lunchtime, and the male teller saw my 49er necklace hanging from my neck and he made some comment about how he should throw me out of the bank. I guessed correctly that he is a Raiders fan. After he completed my transaction, I re-counted the money he gave me, and told him that I needed to make sure he didn't shortchange me. He didn't know how to take it at first, then he said, "Awww, what...do you think all Raiders fans are crooks?" I just smiled and said Yep!

And I see work is almost complete on a Cheesecake Factory restaurant across the way from the bank. Mmmmmmm....cheesecake!
Said by Kim at 1:28 PM
(PL)|| ||

~*~*~*~*~*~*~*~*~*~
Thursday, November 17, 2005
Yep...more boring videos! Hey, nothing else going with me to talk about....so you get videos....I'll bring Ratty home during my vacation and find out what kind of trouble she can get into. And I'll try to get out this weekend to take pictures of the beautiful colors while they are still here....the leaves are falling finally. But it's still in the lower 70's here....don't hate me! LOL

I had to get my car washed this morning...it was dirtied up from the small rain we had last week, and I just haven't had a chance to stop to get it washed....


I met Kathy for lunch up in the north part of town for Chinese....so I hopped on Freeway 41...this freeway will lead you up to Yosemite National Park...so if anyone has driven through Fresno to Yosemite, you've been on this stretch of road:
Yeah...I'm boring..........
Said by Kim at 6:58 PM
(PL)|| ||

~*~*~*~*~*~*~*~*~*~
Wednesday, November 16, 2005
I thought I'd give everyone a personalized tour of my work cubicle (Kathy, don't let Heather hear this one!):


Slappin' Ratty around during work....nosey little twit she is!
Another drive home:
Said by Kim at 7:09 PM
(PL)|| ||

~*~*~*~*~*~*~*~*~*~
Tuesday, November 15, 2005
I thought this was a rather pretty sunrise this morning: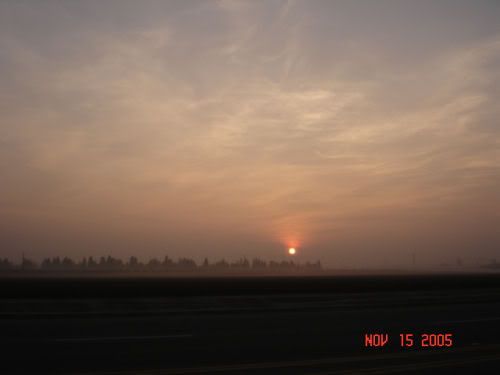 Here's a couple of mindless videos from today...this first one was taken while I was out doing my morning walk break at work....I'm still walking while shooting, thus the reason why the picture is shaking...but you get the idea....LOL! Kathy, listen to the sound when you're alone...questionable language...LOL:
Yes...he WAS doing a delivery to us....I just didn't want to be obvious.
Another Brown truck...but it wasn't RB's:
Another "Take Your Life Into Your Own Hands" episode:
Driving to work, with some Van Halen cranking:
Said by Kim at 6:20 PM
(PL)|| ||

~*~*~*~*~*~*~*~*~*~
Monday, November 14, 2005
I received the new Man-Raze CD single from Robin today....and it's 'WAY COOL'! Do pick up a copy if you see one...you won't be disappointed!

OK, LepVegas trekkers....HOW WAS THE WEEKEND??!! I'm sitting on pins and needles here!

I had some free time at work this morning, so I thought I'd get a jump on decorating my little Christmas tree that I have at work....and look who decided to supervise the decorating: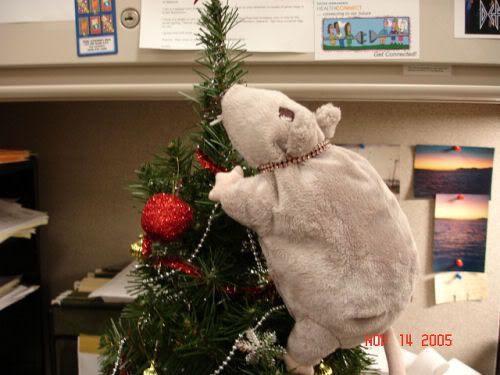 And here's more mindless driving home:
Said by Kim at 7:40 PM
(PL)|| ||

~*~*~*~*~*~*~*~*~*~
I hope everyone had a good weekend...ESPECIALLY those who were in LepVegas this weekend! Patty, I'm sorry I missed your first call! And I was so wiped out that I turned in early and missed your second call about the T-shirts. Next time, we'll be there in LepVegas for sure!!

I have this week to work, then I'm on vacation for 10 days. I was seriously thinking about cancelling most of it, because I just can't fathom hanging around home for that long, but I'll go ahead and keep it. I've already cancelled 2 vacations this year, so I need to use those hours in my vacation bank. Next week is the US Thanksgiving holiday. I need to start getting my Christmas decorations down, and put the trees up next week. I just love this time of year!

And yep....this guy is still as hot as he was in a 49er uniform - if you don't know who this is...you're not a football fan...what the hell is wrong with you?? LOL: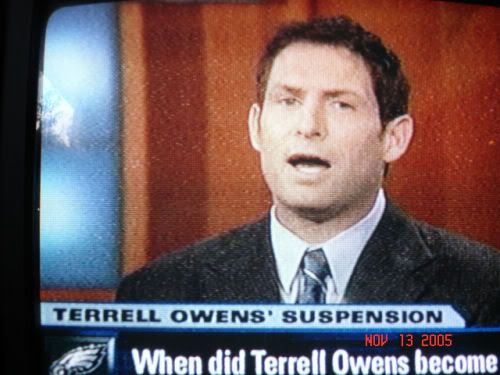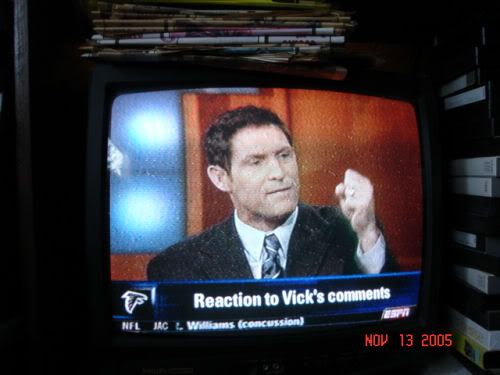 Here's a view of the scenery down our street, and the tree turning colors in front of the house across the street from ours...such a lovely sight to see when we look out of the dining room window: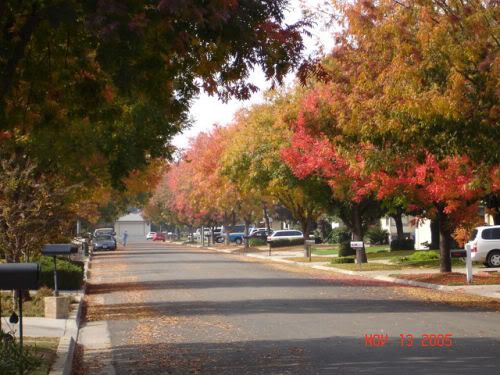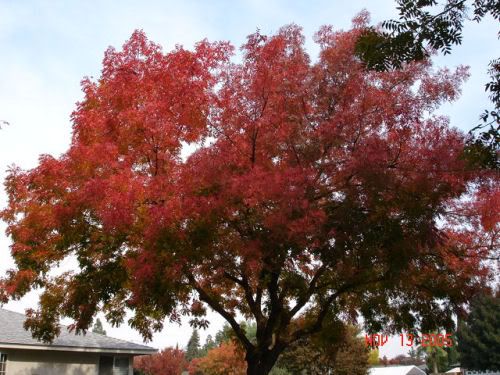 Said by Kim at 5:30 AM
(PL)|| ||

~*~*~*~*~*~*~*~*~*~