Saturday, September 23, 2006
Kathy, Heather, Shawnie, Tara and I met up at Starbucks at little after 6 am this morning, then headed to the Clovis Rodeo Grounds for the Hot Air Balloon Fest/Clovis Fest. There were only about 20 balloons, but it's still a pretty sight to see: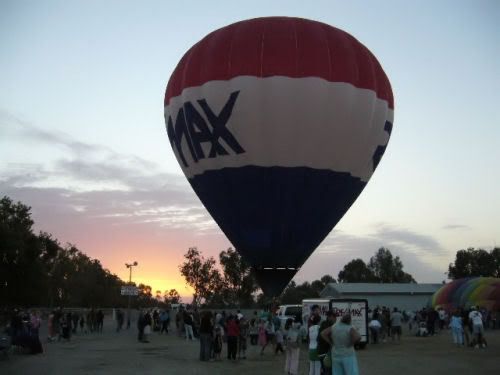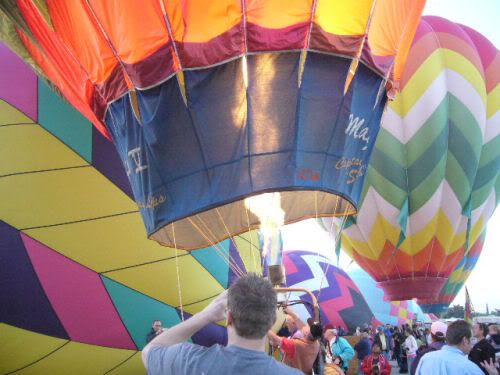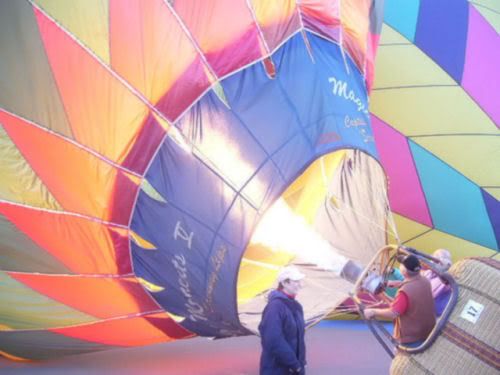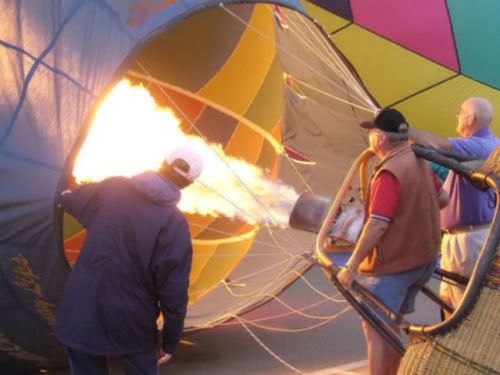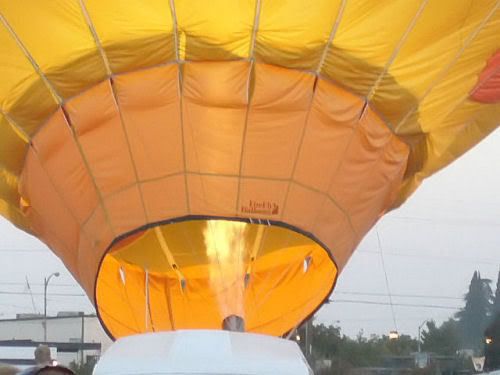 Heather and Tara: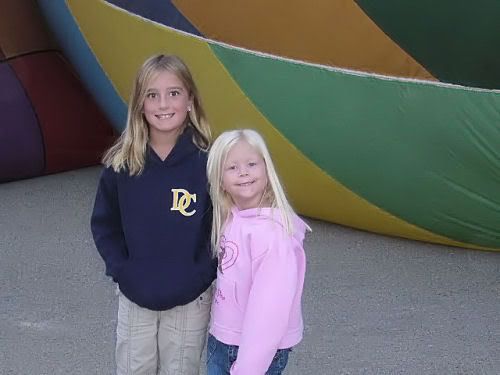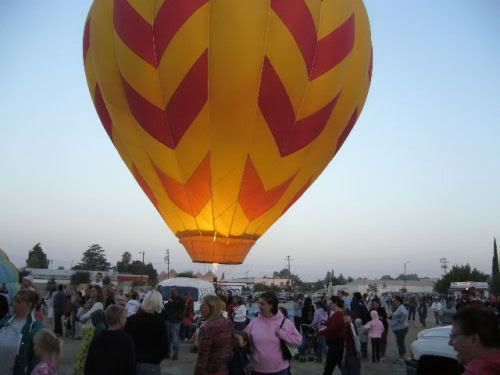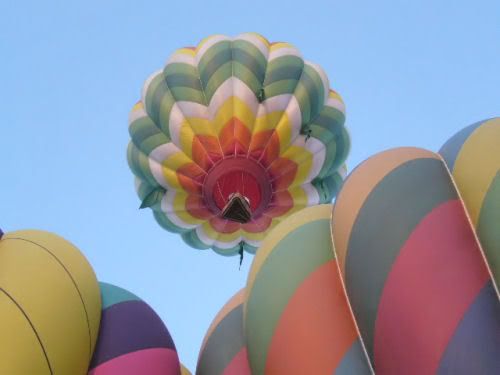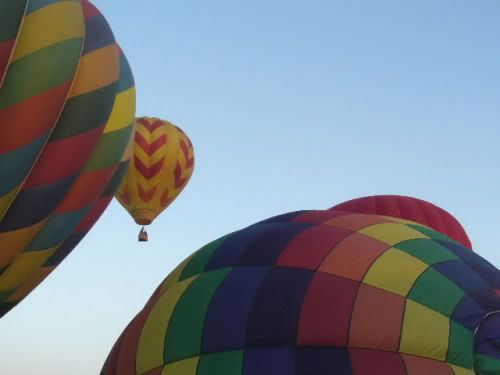 I just love to get shots of the flames coming out when they are up in the air: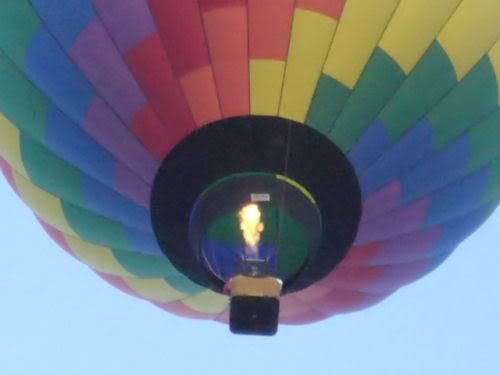 The morning sky: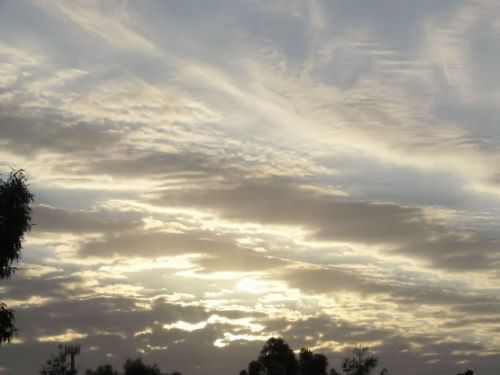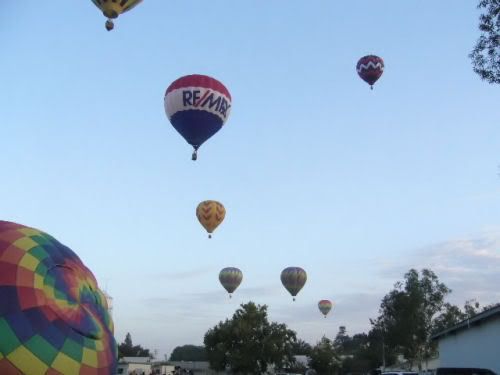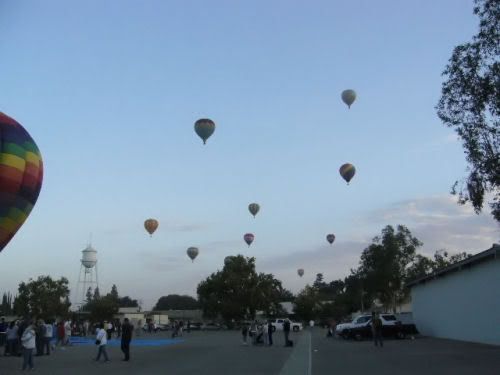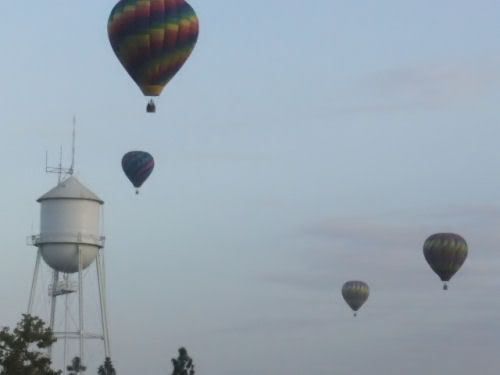 It was a fun, but TIRING morning....lots of walking...but it is always a good time! Next adventure coming up......JOURNEY AND DEF LEPPARD!!! Stay tuned for those pictures! *note to self - get another 1G memory card!*
Said by Kim at 7:10 PM
(PL)|| ||

~*~*~*~*~*~*~*~*~*~
Thursday, September 21, 2006
I'm getting EXTREMELY PISSED at the people who are part of our Union through work this week....they keep calling me every night to remind me to vote in the upcoming November election, and who to vote for. Once was fine, but now it's becoming EXTREMELY ANNOYING! And it's a different person every night!

Just SHUT THE HELL UP, and STOP CALLING ME! I am seriously thinking about complaining to the Union...this is bullshit to call every frigging night!
Said by Kim at 7:54 PM
(PL)|| ||

~*~*~*~*~*~*~*~*~*~
Tuesday, September 19, 2006
So, I had Arby's today for lunch, because a couple of the girls in the office wanted it, so I made the lunch run. Arby's just doesn't give me the ammunition I need for an award winning belch:



LOOK, D-MA!!! We have bad parking too! LOL! The guys in Materiel Services park like this all the time in the back of the building: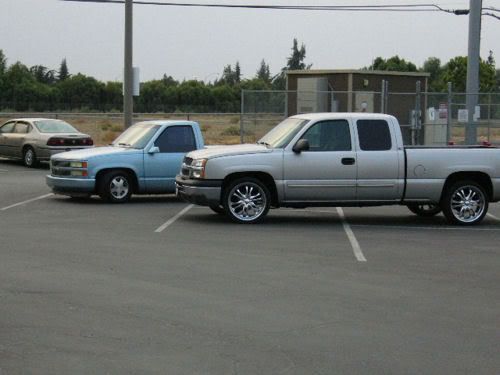 Said by Kim at 5:47 PM
(PL)|| ||

~*~*~*~*~*~*~*~*~*~
Thursday, September 14, 2006
We had a nice sunrise, and a spectacular sunset today, thanks to a small cold front going through...it was nice, breezy and much cooler than we have been....NICE!!!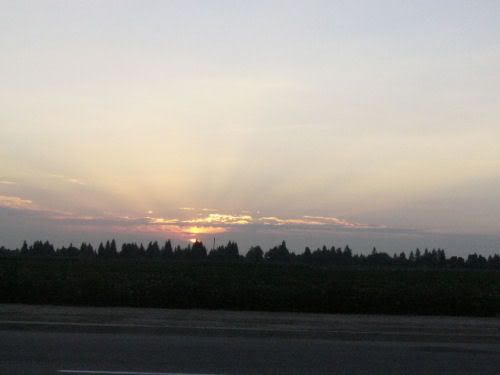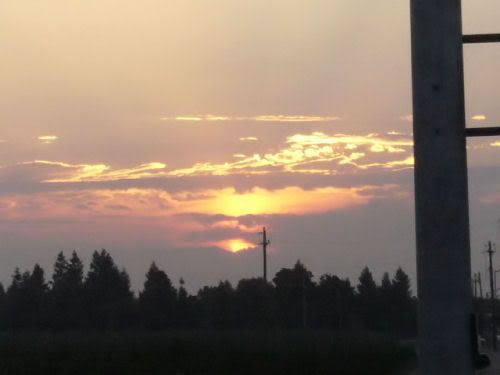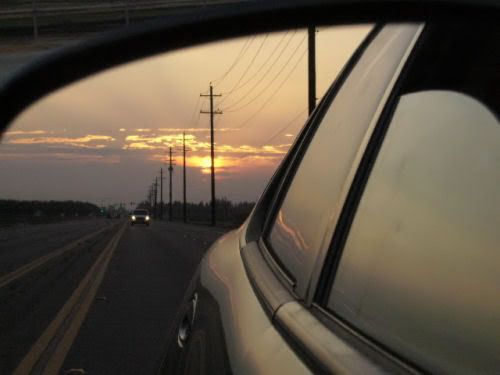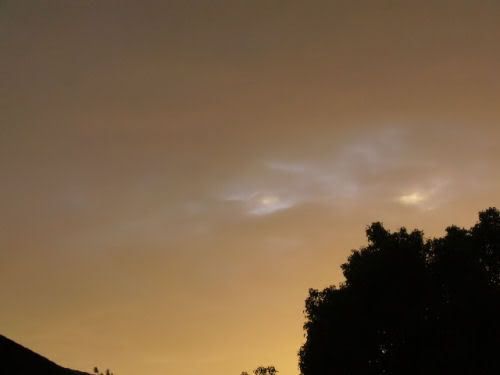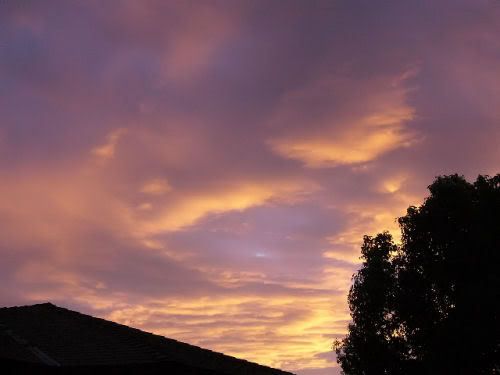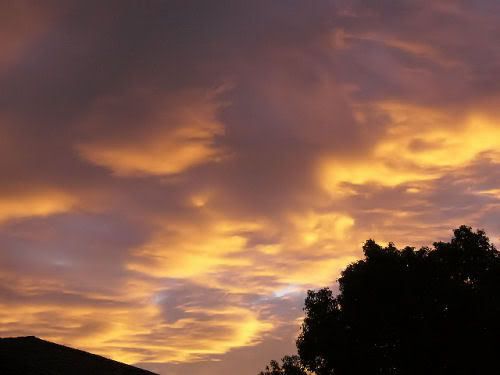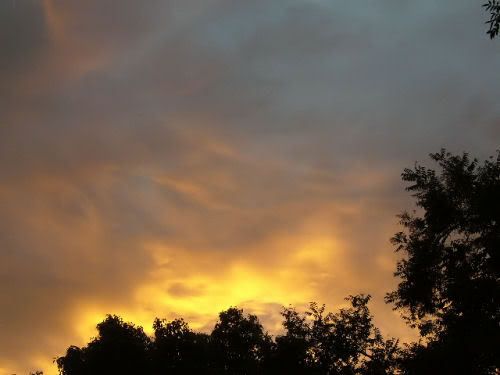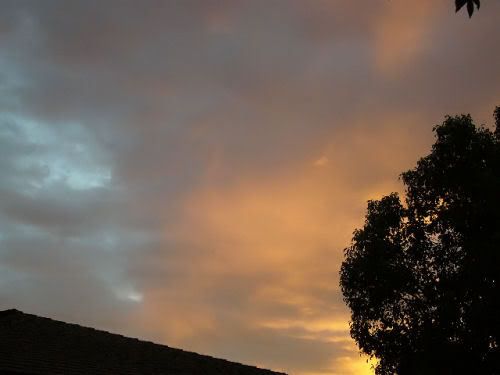 Have a good weekend, everyone!
Said by Kim at 8:14 PM
(PL)|| ||

~*~*~*~*~*~*~*~*~*~
Sunday, September 10, 2006
Yes, we did get into the game last night...although we ended up paying more than we usually do...but what can you do? Fresno State played hard, but we ended up losing to Oregon by the score of 31-24, thanks to a fake field goal by Oregon. They faked the field goal, and ended up scoring a TD with 4 minutes left.

I took my trusty camera along, and got this clip right before the beginning of the 4th quarter. For the past few years, the song "Jump Around" by House Of Pain has been played before the 4th quarter starts and it's the equivalent to the 7th inning stretch at baseball games. It's called "The 4th Quarter Bounce." The song is played and fans start dancing around....here's a sample of what we saw last night. Pay special attention to the bald guy dancing....it was some funny shit!




Said by Kim at 12:10 PM
(PL)|| ||

~*~*~*~*~*~*~*~*~*~
Saturday, September 09, 2006
More colors are showing up on the trees....and falling to the ground: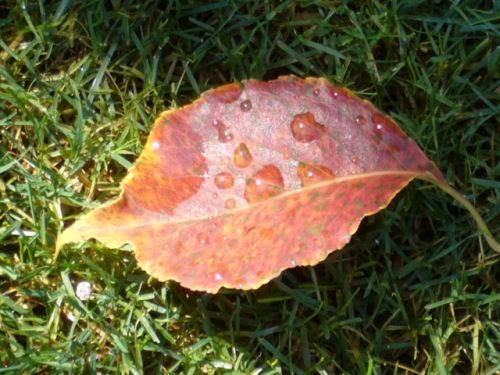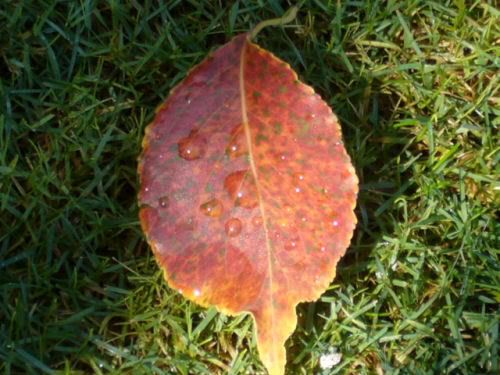 This rose was hiding a visitor...looks like maybe a baby grasshopper?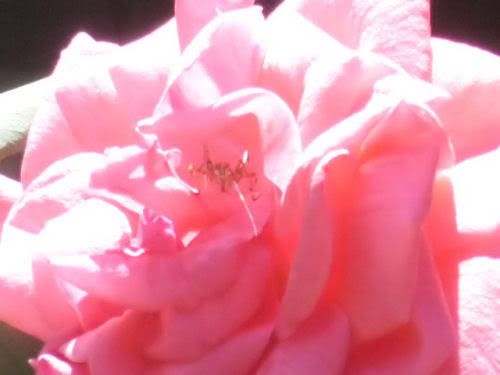 I hope I'm not trying to get sick....I felt stuffy and lethargic at work Friday, and still feel a little under the weather today...but I drank a huge shot of MonaVie this morning and felt better. Kathy, Shawnie and I are heading out at 4:30 to grab some dinner, then head over to Bulldog Stadium to try to get in to the sold out Oregon/Fresno State football game. Kathy and I always have luck getting tickets either FREE or at half price, so cross your fingers that we'll have the same luck tonight!
Said by Kim at 1:16 PM
(PL)|| ||

~*~*~*~*~*~*~*~*~*~
Thursday, September 07, 2006
Well, it seems that I've lost a 'friendship' today. All over something completely petty and it also opened my eyes to the true colors of this person. This person is a co-worker of mine. She got bent out of shape about something work related a couple of weeks ago: she felt that I wasn't being a "TEAM PLAYER" because I didn't get up to help her look for a bankcard receipt.

I handle all of the bankcard receipts that are collected by the receptionists in the Outpatient Clinics and the Admitting Department each day. I don't keep them in any particular order in the daily batching folder...I just stick them in there, but all receptionist names are on each stack.

This person was having a hard time finding a receipt, but NEVER ONCE asked me to come help....I have two witnesses who verified that fact after the incident happened. This person continued to stand on the other side of the partition and bitch about not being able to find the receipt she was looking for, and asked me why she had to pull it for a refund. DUH....when you return something, you generally need the original receipt!!! I explained this to her, but it seemed to piss her off even more. She then asked me to show her how to find the particular receipt by receptionist name. I showed her, then returned to my work.

A few minutes later, she was up in the front office with one of my batching folders, having the Senior Clerk help her. The Senior Clerk told her that she had the wrong date of service folder. She slammed the folder shut and stomped back down the hall to return the folder to my files. I had to ask the SC about another refund, and when we finished our conversation, I headed back to my office. The co-worker was coming out, stomping her feet like a little two-year old. I jokingly told her that this was good practice on finding receipts in the future if need be. She glared at me and said "I DON'T NEED THAT KIND OF PRACTICE, THANK YOU VERY MUCH!!!"

I just laughed under my breath and came back to my work. The next day I went up to the front to say hi to her, and to everyone else, and she 'reprimanded' me in front of our co-workers, saying that she wasn't mad, she just felt that I didn't exhibit "TEAMWORK" by not getting up and helping me, and that I probably could have found the receipt right away. I told her that NO, just because I handle the receipts, it doesn't mean that I have a magic wand and can go right to the receipt. I often times have to search for awhile to find what I am looking for!

She continued to say that I wasn't being a TEAM PLAYER. I simply looked at her and said "Excuse me" and left. We hadn't talked until today, when I saw her coming down the hall, so I said to her, "We need to talk."

I told her that I didn't appreciate the way she spoke to me in front of everyone, and she once again said I wasn't a TEAM PLAYER, blah blah blah. I told her that I felt she was expecting me to help her and she never once ASKED me. She claims she did, and I told her that I had two witnesses who can vouch for the fact that she didn't. She said, "I don't care what your 'witnesses' say....I don't trust them." I asked her if she was saying they were biased, and she said yes. LOL!!!!

Long story shorter, we ended up staying divided, and I also told her that I didn't need her as a distributor for my MonaVie business, since I found out the next afternoon after her public condemnation of me, that she had cancelled her standing order for future bottles, and she must have also convinced another co-worker who was also signed up as a distributor to pull out as well.

Can you say CHILDISH??

She ended the conversation by saying she didn't need my friendship either, and I told her, "Fine, I don't need yours either." This isn't the first falling out that we've had, and I am now seeing her true colors of how she operates. And damn it all...I had used my Def Leppard Fan Club presale password to get her a pair of tickets to the Fresno show next month....the bitch was able to get 4th row seats. I would have rather used my password on my other two co-workers who ended up in the middle of the floor seats! Oh well, she'll be watching the back of my head from my hopefully front row seats, since we have the 5 Star VIP package. HEHEHE!

Am I upset about losing this friendship?? Nope....not after seeing how she has acted in the past few months with various co-workers who have done NOTHING to her.
Said by Kim at 5:45 PM
(PL)|| ||

~*~*~*~*~*~*~*~*~*~
Saturday, September 02, 2006
Well...look what we have here....the first real sign that fall is approaching...and it's still 100 degrees during the day!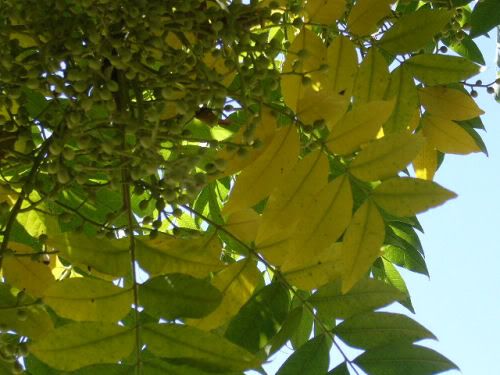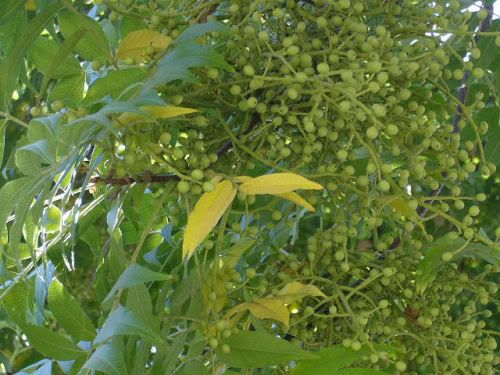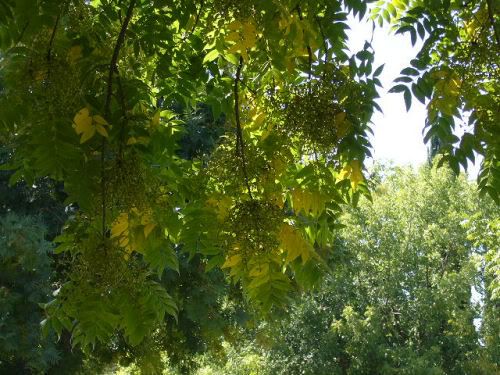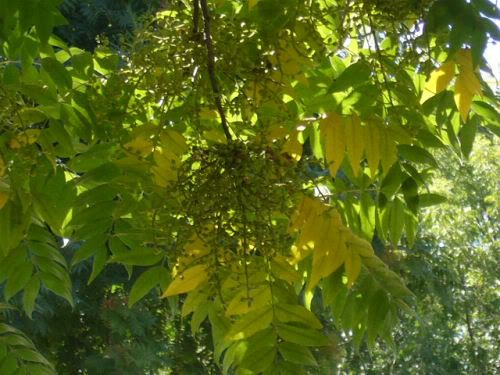 And if you haven't browsed through the thread for the Mountain View, California showon the Official Def Leppard Message Forum yet, there is much abuzz about Joe laying a big wet one on an unknown female during the first part of the song "20th Century Boy." The mods have their panties in a twist now because of all of the chatter about "The Kiss". But someone did post a link to a video on YouTube, that was posted by Darren of DefleppardUK.com. The link has been removed, but here it is for those who didn't see it...HOLY SH*T, if Joe ever grabbed me by the back of my hair like that.....................!!!!!

The KISS
Said by Kim at 7:23 PM
(PL)|| ||

~*~*~*~*~*~*~*~*~*~